This is a specific example to go with my
How will the artists get paid?
essay, and a way for me to let others know about some artists I especially like.
Two of my favorite performers are David Buskin and Robin Batteau. They are very talented singers and songwriters. Their voices mix well with a good range. David plays guitar and piano; Robin guitar, mandolin, and violin. Their melodies are rich and moving, and their words are wonderful, sometimes romantic and sometimes funny. Most people have never heard of them, though they have been very successful as artists. Their story is illustrative of one successful mixture for getting paid.
The first time I heard Buskin and Batteau playing together was at a
Tom Rush
concert many years ago. Tom
brings together
a variety of different singers in one show at a large venue using his draw as a successful folksinger from the 1960s and 1970s. (I think the one I attended was at Symphony Hall in Boston.) I was already familiar with some of the other performers, mainly Tom Rush, which was the draw that brought me to the concert. Buskin and Batteau, whom I had never heard of, were one of the many acts later in the show. The whole night was great, but something about their playing, versatility, and songs seemed special to me.
Sometime later, I saw that Buskin and Batteau were coming to town for a concert, one much smaller than the one when I first heard them. Remembering that I liked their sound, but not specifically why, I went. Then, each time I learned they were in town, I went to their concerts. Like many others who attended, I bought their tapes and a CD at the concerts. I listened to their music when traveling and learned the nuances of many of their songs. I became a fan.
At one of their concerts they explained some of how they made extra money: David wrote a jingle for a commercial business and suddenly was making enough money to radically improve his housing situation. Robin saw that and started to do the same. Now, at some of their concerts they'd play a medley of these commissioned works. Eventually, they decided touring and performing weren't what they wanted to do, and stopped performing together in 1989, relying on individual commissioned work. David also became part of a
comedy troupe
.
Searching for them on the web, I noticed that they have played with many other musicians over the years, adding their talents to various recordings and performances. (I found out after posting this that Robin also played on both of the albums now-journalist
Dan Gillmor
's band recorded in the 1970's.) Others have performed their songs, bringing in song writing income (hopefully).
Eventually, the commissioned work dried up and they decided to start touring again this year (2003). They played in the Boston area in early April to several hundred adoring fans who remembered them from way back when. Their recordings are not in print, and even the ones they were selling at the concert were half old vinyl LPs and cassettes from the 1980's (so I can't point you to a place to be exposed to their music). I went to the concert and it was every bit as great as I remembered them. I ran into numerous friends of mine whom I found out for the first time were fans. (One told me she only knew of them through years ago hearing a special with Tom Rush's show on the radio and was attending her first concert.) Here are some pictures from the concert: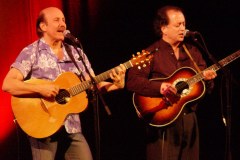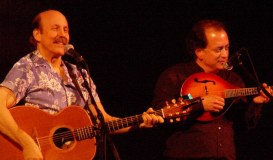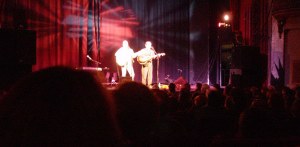 Most people to whom I mention Buskin and Batteau have never heard their names. However, through commissioned work, according to the Boston Globe 4/3/2003: "...[in] the 1980s, theirs were 'the most-heard voices in America, more than Michael Jackson, Mickey Mouse, and Ronald Reagan combined -- a horrifying thought by itself' boasts one press release." Among others, Buskin wrote a short "logo" jingle for NBC, co-wrote "All Aboard America" for Amtrak, and did work for Burger King, JC Penny, and the US Postal Service. For "...a new Tufts song, the gift of Overseer Rysia de Ravel, J71, P94, on the occasion of Tufts' 150th anniversary...De Ravel commissioned award-winning singer and songwriter David Buskin, whose previous clients have included Judy Collins, Tom Rush and Roberta Flack." (See "
A New Song for a New Era
".) Batteau wrote and sang Coca-Cola's "Can't Beat The Feeling" and Chevrolet's "Heartbeat of America", and wrote "Be All You Can Be" for the US Army.
Fans, concerts, recordings, songwriting, studio and commissioned work: Some of the ways artists make a living.
-Dan Bricklin, 14 April 2003
See also: The comments at
the end of
"How will the artists get paid?" about reactions to Mark Bernstein's posting.
On a separate note, I have always been involved in representing small businesses, and am now involved in developing products for them and marketing to them. One of the songs Buskin and Batteau sing evokes an image for me of what small business people are often like. I found a (legal) copy on the web of just that verse, used on the WBUR radio program "Only A Game" on November 9, 2002. Here's
a link to the RealAudio
. It's about drive, and supposed to be about New York City, but it has the right image. The hard, extra work, the pride of ownership of what you've got even if it's small by other measures, the devotion to family and other personal goals that the business serves, etc., all resonate with me, especially with the way it's sung.
STARS IN THEIR EYES
Words and music by David Buskin
Sung by David Buskin and Robin Batteau on the B&B album
(c) 1987 Poso Music (ASCAP)
...
They got a convict studying law
'til dawn
They got a one-legged runner in
the Marathon
They got a street peddlar hustling
his merchandise
In the Apple everybody got stars
in their eyes
Stars
(chorus:)
Stars
Stars
Stars in their eyes
Stars
Oh, Stars
Stars in their eyes
Kim Dong Lee is up before four
Working so hard he can't see anymore
He's up in the Bronx buying lemons
and limes
Hurrying back to get open on time
He comes from a country where
they shot his dad
This fruit stand's the biggest thing
he ever had
He says his kids'll be doctors if it
cost his eyes
This is a hell of a place for a star
to rise
(chorus)
-Dan Bricklin, 21 April 2003
-Dan Bricklin, 17 September 2009