Saturday night, January 15, 2000, I was one of the judges for the 2000 Mr. and Miss Tall Boston Pageant of the
Boston Beanstalks
. The Beanstalks Tall Club is a local organization for tall people (women 5'10"+ and men 6'2"+), affiliated with
Tall Clubs International
. This is what happened.
The event was held in a neat old building which is frequently used for receptions. There were to be about 100 attendees or so. The judges had to get there early for instructions. We met in the main lobby: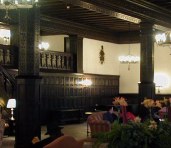 The entrance and lobby

We were told that the object is to select the man and woman to best represent the organization to both the local press, etc., and to affiliated organizations around the country and world. Outsiders are used as judges, though 40% of the vote comes from the audience. We had to score the contestants on a 5 minute interview, a skit, carrying themselves in evening wear, and responding to a surprise question. There was a late entrant, so there were now three men and three women running.

We filled these out

The first part was the interview. One by one, the contestants sat with each of us in the lobby. I had to come up with questions unless they were very talkative. "If you were asked to be on a local morning radio show, what would you tell them you do at meetings? Sit around and bang into the ceiling?" I knew from my last time judging that the club wasn't always treated with respect when invited to speak, so their representative needed to be able to handle such situations. (Turning "Tall women and the runts that love them. Next on..." into a good recruiting appearance.)
Here I am doing some of the interviews. I was already dressed in my tuxedo for the evening and the decor matched. Here I am interviewing Stefan and David: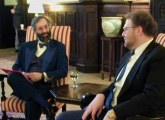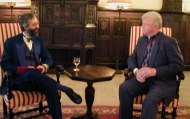 Yes, I own a tuxedo

I learned that one of the "benefits" of the position they wanted was that you got to ride in a convertible in various parades in Boston. One of the problems with being tall is getting clothes. "You can't just walk into K-Mart and buy something. That extra 3 inches of fabric costs $80."
The contestants were kept away from us judges except for the "official" interactions.
Before going in for cocktails I spent some time talking with the other two judges, Ellen Freedman and Judy Jetson. Ellen is Vice President, Marketing and Product Development, at
CareAdvantage
, a firm in New Jersey. She's been a member of various Tall Clubs for almost 10 years, and has been a "Queen" (another term for Miss Tall). Judy runs a hair salon in Cambridge, Massachusetts.
Judy got to be a judge last year to help choose Mr./Miss 1999 when her client Kay Allerdt was Miss Tall Boston 1998. I got to be judge because I'd done it before and was asked both times by Jan Huffman, Mr. Tall Boston 1996: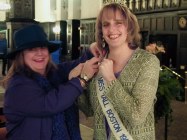 Judy helping get Kay ready; Jan my patron

I've learned that once you do something, if you don't blow it, you're "in". One of my main qualifications, they kept mentioning, was having done it before.
The main ballroom was fixed up. They put a little runway with lights on one end: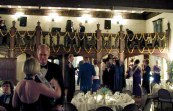 You can see the balcony with musicians and the runway

I sat near the Master of Ceremonies, George McQuilken. George knew me from some interactions at the Massachusetts Software Council years ago. He's been editor of the IBM Systems Journal, and was on the board of RSA Security. He's now a venture capitalist. He we are standing next to each other (he's been a Beanstalker since the mid-1980s):

George and me

George has a great voice and demeanor for being MC. He's done it before. I think every organization needs to have someone to act as the default Master of Ceremonies. It's an art, since you need the stage presence and ability to fill in time when things don't run too smoothly. At the Software Council Mitchell Kertzman, at the time of Powersoft, was usually our MC. Ever since he moved out of town we really miss him as MC.
One of the many fillers George was prepared with: "If at first you don't succeed, don't try sky diving". (He scoured the Internet for jokes, I think.)
After dinner we judges moved to the judges' table: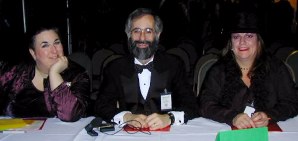 The judges

Now everything happened in front of the audience: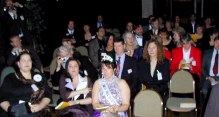 Part of the audience

The first part was the skit. Lee-Ann told about how she was called "giraffe" as a kid, automatically given the part of the Statue of Liberty, but thanks to the Tall Clubs turned into a swan with confidence. Bernie sang a "Blues Brother" variant. Iris pretended to be in a retirement home: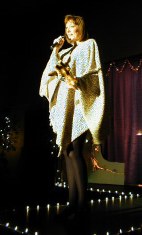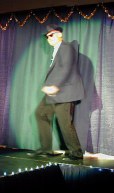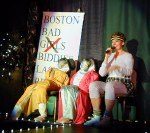 Some of the skits

Next was the formal wear section. They would walk out onto the runway to show that they could choose clothes appropriate to their body and carry themselves well. Iris made her own dress. Two, Stefan and Jennifer, had special problems: Stefan had a crutch because of knee surgery, and Jennifer had a cast on one leg.
After that, they were brought out one by one to answer two questions: "If you had $200 to spend to promote the Tall Club what would you do?" and "If the airlines only allowed you to take one item with you to a Tall convention, what would you bring?"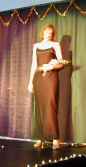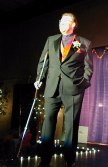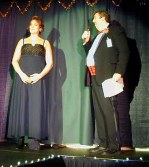 Formal wear and questions

To keep us entertained between parts, the outgoing King and Queen said some things, others did some songs, etc. It was lots of fun. This is a warm group.
We voted. The audience voted. The votes were tabulated. Finally, the winners were crowned. Stefan Shcherby was the new King, and Iris Berdrow the Queen: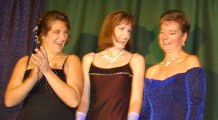 Stefan gets crowned; the women hear the results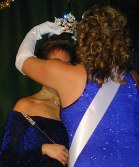 Iris gets crowned

Stefan, 6'5", is a musician, actor and entrepreneur. He's played in a Ukrainian wedding band, and appears on a local radio show where he plays polka versions of popular music. Iris, 6', is an assistant professor of international management and organizational behavior at Bentley College.
Afterwards we went out for formal pictures by a photographer. Here are the three judges with the new King and Queen: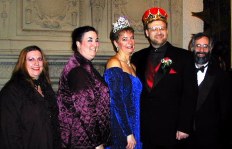 The judges and winners

They also took a picture of me, the only male judge, with the three female contestants. It's the best picture I have of them, so I'll show it, since I learned that one of the benefits of running is the opportunity to live out childhood dreams of walking down a runway and being in a pageant, something they hadn't gotten before since they were much, much taller than others in their schools. Together, they look normal and I look more out of place: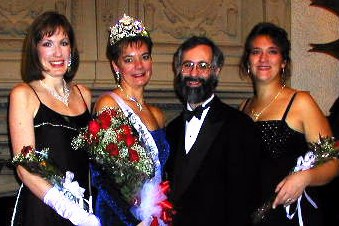 The women contestants and me

The evening ended (at least for me because I left) with dancing. Here's the new King and Queen, Mr. Tall Boston and Miss Tall Boston: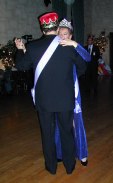 Their first dance