On April 16, 2001, Trellix and Pyra announced a relationship. (You can read the press release
here
or go to the
Trellix
or
Blogger
web sites.) Here's my story behind it.
Some background: Back in 1985, the company I founded that created VisiCalc, Software Arts, was in very bad shape. We had won an awful lawsuit filed against us by our old publisher and had released some new products, but we owed lots of money and needed a partner fast. We had talked to many companies, but they either didn't understand our urgency or wanted deals that tied me up personally with employment contracts I didn't like.
In the midst of this, I traveled to an industry trade show, SoftCon, hoping to find a good partner. Waiting to check in for the plane, I ran into Mitch Kapor, founder of Lotus. Mitch was a friend from back in the early days of Software Arts, but Lotus was now a major competitor. Despite our bad situation, I hadn't contacted him. Mitch asked me how I was doing. I said "Lousy." He said "No." I said "Yes! Want to talk about it?" We spent time talking on the plane and it turned out there were some important synergies between what they needed and what we had. Within 5 days, we had a deal -- one that Mitch helped structure in a way that gave me the freedom to do what I wanted. His approach to the deal made it happen and beat out our other suitors. (I ended up consulting to Lotus for a few months and then went off and founded Software Garden to create the successful Dan Bricklin's Demo Program.)
Fast forward. I've been a relatively long-term reader of Dave Winer's Davenet and
Scripting News
. In 1998 I created a public web site of my own that I updated frequently for a few months,
GoodDocuments.com
, to discuss issues related to our work at Trellix at the time. In early 1999 I started my own public personal web site,
Bricklin.com
, to, among other things, provide a platform for my writings.
Through Dave and others I read about a new product called Blogger that a company called Pyra released in late August 1999. Internet people I respected started using it. In October 1999, I started my own log as a part of my web site, using Trellix's product of the time, Trellix Web (a desktop application).
I kept hearing about neat features in Blogger through Dave's writings. In February 2000, Trellix announced Trellix Web Express (TWE), a server-based web site creation system we were developing. In March 2000, Dave ran a panel at Esther Dyson's PC Forum on "Web-based Applications". It included Pyra founder Evan Williams as well as myself. I met Evan at the opening reception and we had a nice talk. You can read my report of that conference in my
PC Forum 2000 Album
elsewhere on this web site. Here are some pictures:




The reception, Evan Williams, Dave Winer, Dave running the panel

We released TWE in May for Lycos/Tripod, and in September started rolling out other private label versions for additional partners like ZDNet, CNet, About, and others.
February 1st, 2001, I returned from a PR tour. It was my mother's birthday and that night I was busy trying to find a way to tape
Jeopardy!
after she called saying she
saw my name
mentioned on it. Later, reading Dave Winer's site before bed, I saw
a posting
about problems at Evan's company, Pyra. I read Evan's heartfelt story "
And Then There Was One
". I was really moved. This was the type of stuff I couldn't write during our tough days at Software Arts.
As a believer in web logging, and an admirer of the product, I didn't like the idea of Blogger being lost in the dotCom crash. Personal web sites were growing and important. Losing the most well known system used by many of the most visible people would be a blow to the industry. Also, our product, TWE, was tuned for creating normal multi-page web sites, with lots of pictures, fancy layouts, etc. -- great for photo, small business, informational, hobby, and personal expression web sites. It was not tuned for chronological, content-managed web logs. (Our old desktop product that I use for this log is a nice compromise, but desktop products don't have the widespread appeal of a server-based product like TWE.) Our server-based offering includes not only TWE, but also FTP, Frontpage extensions, and an HTML editor to serve as wide an audience as possible. I had always planned upon adding features to TWE to beef it up for blogging. Maybe, I thought, we could acquire some technology from Evan and help him and his users at the same time. (And, of course, there could be some good PR opportunities...)
I quickly sent off an email late that night to Evan asking if there was anything we at Trellix could do. The next day I talked to my CEO at Trellix, Don Bulens, and told him what I had read and asked him if it was OK to try to do something with them. He said yes.
A few days later Evan responded. Seeing that I was scheduled to speak at O'Reilly's P2P conference several days later, he said he'd like to chat if I had a chance when I was in California.
I arrived in California Wednesday, February 13th. All afternoon I accompanied Trellix people on sales calls. Finally, I arrived in the evening at the Westin St. Francis in downtown San Francisco where the conference was being held. I called Evan and we arranged to meet near the hotel registration. We did meet, and then walked through the lobby to go out to dinner (registration is straight through the opening in the middle left):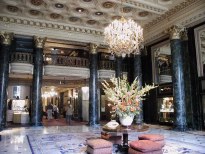 The St. Francis hotel lobby -- really something!

We walked around a few blocks until we found a place that appealed to both of our eating requirements: Niko Niko Sushi. Here's what I recall of the conversation:
I asked Evan what his situation was and what we could do to help. I checked to see what he wanted, remembering my experience on the other side from Lotus and the other suitors way back when (I told him about that). He wanted to stay independent. He didn't want to move to Massachusetts

. He had talked to others, but they weren't proposing things he liked or weren't coming through. (Sounded familiar...) He was willing to license code and trademark. He could give us lots of time to help us get things working. He understood the benefit of our partners to his distribution. I asked about the code (some in asp -- bad for us -- some in Java -- good -- and XML for data -- good). I took notes. We went over monetary needs.
I told him I understood his situation and would try to be as responsive as possible. I would talk this all over with Don in the morning when the East Coast woke up and Don would be back to him by phone to work out a proposal that day if he wanted. I knew that the best way to do something like this (from Evan's viewpoint) was to move fast to an agreement so money can change hands and he could plan his future. Taking weeks to come to a decision could really hurt his future.
I forgot to bring a camera to record the meeting. All I have is a picture of the receipt I filed with my expense report. The notes were made that night: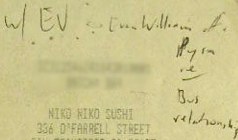 Receipt from dinner ($41.10 plus $8.50 tip...) and detail

I was happy since I thought we had the outline of a deal that would work for us both and there was a good possibility that it would happen. I was worried that Evan may not like it in the light of morning or not get along with Don when they went over details of what we'd need.
The next morning was the start of the conference. I took a seat where I could take pictures. They had 802.11b wireless, so I was hooked up to the Internet. I
posted
during the morning session. Evan
posted something
a bit later, showing he read my stuff and telling people that we had dinner together. I ran into Evan a couple of times, but we didn't talk about the deal. I kept calling Don to see if he connected with Evan. It took a while, given cell phones and Evan's schedule.
By Friday afternoon, Don had talked with Evan and emailed him a proposed outline of an agreement. (Not bad -- Evan and I met Wednesday night.) Monday we heard back from Evan. He liked what he saw, but needed to think a bit and run it past some others. It took a little while to get that all together and fine-tune the term sheet. With lawyers and advisors involved, it took a little while to finish, but the basic deal worked out in the first 48 hours was finally signed on March 2nd (and money changed hands).
Over the following weeks, Evan had other work to do and both companies worked on a full contract which was eventually signed. I also noticed that Evan was quoting my writings more often

. On April 9th Evan and one of his people, Matt, came to Trellix to install a copy of Blogger on an internal system here, teach us about it (inside and out), and plan for the future. We also worked on the press release.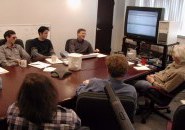 Evan and Matt present to Trellix engineers, Dan and Evan taken by Don in his office

Wednesday night they went home. Friday Evan and I started briefing some of the press for official publication Monday. I spent the afternoon writing this. I posted it around the time our press release was scheduled to go up on the Trellix web site.
-Dan Bricklin 15 April 2001
Related Links:


Evan Williams' account:
How the Trellix Deal Happened -- and What It Means

Dan Gillmor
was the first to post something in his Web Journal.

After Dan, it showed up on
MetaFilter
.

New York Times article
. The print version also has a picture of me in a tux...

SlashDot wrote it up
, too, pointing to this article among others.

A Monday phone interview led to a
Reuters article
. I posted a clarification about a quote in the article as "
Blogs and Pulitzers
".

Charles Cooper did a
CNet Newsmakers interview
.