This is a follow up

After my first
Cell Towers
essay appeared, it became clear that this is a topic of interest to people, so I've written a bit more.
I received some mail about the subject. It seems that palm trees are a common disguise in other parts of the country like California and I missed another pine tree tower in eastern Massachusetts on I-495 near the town of Harvard.
Cell trees as the solution in an historic location

I received this letter from
Steven C. Den Beste
, a software engineer in the cellular phone industry:
But the case which takes the cake is in Virginia. There was one particularly good hill there which was situated such that a cell tower there would cover a large hole in coverage of the local cell company.
Only problem was that the hill was in the middle of George Washington's estate, a national monument.
But they got permission to put the tower in, under the requirement that they disguise it. So it actually looks like a pine tree (and much better done than the ones you show pictures of).
NIMBY [Not In My Back Yard] is a pain. Everyone wants coverage but no-one wants towers.
He includes a
link to an article
that mentions the Mount Vernon tower while discussing cell towers.
Churches and the tithing of cellular use

I also had a conversation with the spouse of a fellow Trellix employee at our holiday party Wednesday right after I posted my pictures. It turns out that he negotiates with properties for the rights to place cell towers (what a coincidence). He reminded me that the fees being paid to various historical places, such as old churches, are a significant factor in letting those places continue to exist and be maintained.
Here's an example. This church is in Newton Highlands, Massachusetts, less than a mile walk from my house. They are renovating the steeple, which is currently off the tower base. The money is coming from rent paid for the cell antenna inside, as I recall from the local newspaper: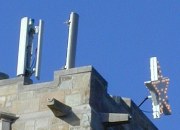 Church with embedded antenna showing and close up

Other antenna solutions

My coworker's husband, Tom, sent me even more examples, with pictures:
This flag pole is an antenna in Canton, Massachusetts:


Flag pole antenna and close up

These pictures show a water tank in Reading, Massachusetts, with the antennas and the wires from them into the ground.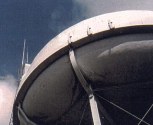 Water tank antenna and cables

This is a different example of mounting antennas on a water tank that's in Lexington, Massachusetts, for Sprint PCS: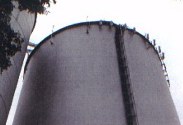 Water tank antenna

Two historic sites that Tom mentioned were the Second Church of the Nazarene in Dorchester, Massachusetts, and a refurbished water tank in Pontiac Mills, Rhode Island.
Cell towers and "techno-blight"

"...And camouflaging is becoming more popular for the sites. Some cell phone companies have made cell phone towers look like pine trees, and in Arizona and California, cell sites that look like giant saguaro cactuses rise 35 feet above the desert. "
- Lisa Guernsey, NY Times 9/7/00
There are pictures.
Manufacturers

Periodically I get requests from people wondering who constructs such systems. Not being in the business, I don't follow that industry. Luckily some of my readers are salespeople or others involved and tell me. Here are the ones I've been told about:

The Larson Company
: They are "a one-stop shop for the creation of themed environments." While they promote their waterparks and simulated mountains, I understand they were involved in some of the stuff shown on this web site. They have a separate web site,
Larson Utility Camouflage
. It says "Larson Utility Camouflage helps keep utility devices, such as cellular telephone towers and transmission antennae, as inconspicuous as possible, minimizing visual intrusiveness on surrounding neighborhoods and natural environments."
Check out their "
sites
" page for lots of pictures.

Alan Dick and Company Composites
: They show some of their cell trees on their web site.

Lentech Telecommunications
: Fiberglass concealment screen technology. Check out their Gallery to see some interesting pictures.
- List last updated 28-Feb-02

Seeing a new one go up

On the way home from work one afternoon in early August 2002, I was talking on
my Treo
cell phone (using an earphone) when the signal dropped as usual on Route 2 near Walden Pond in Concord, Massachusetts. Nothing unusual -- I would call back a few miles later. What was different that day was what I saw up ahead: At the gasoline station at the next light, there was a crane and they were installing something very tall. Was this a new oasis -- a new cell tower to fix the dropouts? Driving by I saw wires at the top to confirm my suspicion. The next day I stopped there on the way to work and took some pictures. More of the tower was covered up, but the top was clearly visible as cell antennas. The little shack next to it also had a sign saying "AT&T Wireless". By the following day, the tower was all covered over and disguised as a flagpole, complete with a large flag. Too bad I'm not using AT&T right now...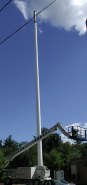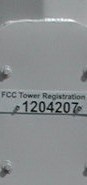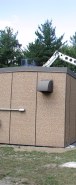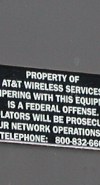 New antenna being erected, top of antenna, FCC registration on the base, building nearby with sign, completed flagpole

If you have pictures of any unusual configurations, let me know so I can post them.