Friday, October 29, 1999

Eyes shut

As I choose pictures for my web sites, I'm always torn between using what I have and making people look good. A case in point is the photo I used yesterday of Walt Mossberg with George W. Bush. Bush's eyes were closed. I took a few other shots of that moment, but Walt looked best in that one (the item was about Walt) and Bush didn't look much better in the others.
I guess I'm resigned to using what I have here on this web site, even if it isn't the edited version of our lives we'd like. It is the record of what happened and who was there that matters, not how good we look.
Why do I care? Since in my early photography days I used to take kid pictures for money and yearbook pictures at school, I'm used to wanting to only have flattering images. Showing friends pictures that made them look bad was not the way to keep them as friends.
Another example. I took this picture of Craig Barrett and Andy Grove (President and Chairman, respectively, of Intel) talking with Rob Glaser (CEO of RealNetworks) last week at Agenda 2000. A great combination of three players in the industry meeting at a major conference. Nice picture of Andy and Craig, and even a pleasant picture of Rob, but reality reared its ugly head and Rob's eyes are closed.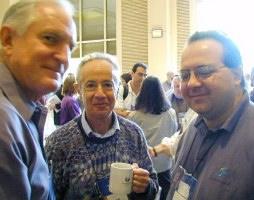 Barrett, Grove, and Glaser at Agenda

If you feel differently about me using non-flattering pictures, let me know. And yes, I know there is a technical solution with new cameras that take several pictures a second and let you choose the best in the sequence. I might try that at some point. But I don't always have the time at an event to choose, and I fill up my camera memory enough as it is and it takes long enough to sort through the large number of shots to find the right one.
Thursday, October 28, 1999

TV Sets for the Internet

The Wall Street Journal published a
column
by Walt Mossberg today about the
new machines
that are coming next year that will consist of just a
browser and email client
with no Windows and sell for less than $200. He gave us a long talk about this at the
Agenda 2000
conference last week. Some quotes that struck me:
The Internet has been the principle reason people have been buying PCs in larger numbers (consumers). I think the Internet is the major reason home PC penetration in this country has finally climbed above 50%...The killer app is going on the web and doing email.
He called these new machines "TV sets for the Internet". You'll put them around the house like you do TVs wherever you might want web access. He said that the PC will become the "provence of the car buffs of technology."
Here's how he looked projected on a large screen during his speech October 19th and talking to George W. Bush at a reception the night before: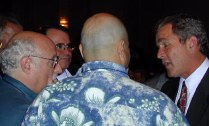 Mossberg at Agenda 2000

I like listening to Walt. He passionately advocates for regular users and I have found his recommendations reliable.
20 years later

The
20th anniversary
of shipping
VisiCalc
in shrinkwrap for the first time passed a few days ago. It was in a brown vinyl binder. More information in my
History section
.

Early VisiCalc


Wednesday, October 27, 1999

How one picture makes me want to write

Last summer, on a vacation in Paris, I took this picture in the room with the Mona Lisa: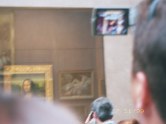 How people look at Mona Lisa

I keep running into interesting sights, but not usually so thought provoking. This log is the place for them.

Guy spoke at the September 22nd
Massachusetts Software Council
meeting. In addition to telling us about his
new venture
and going through a top-10 list, he talked about being an
Apple Evangelist
in the old days. He
hadn't targeted desktop publishing
. Aldus came to him out of the blue. His description (from an Apple-centric viewpoint):
"Aldus Pagemaker is proof there is a God."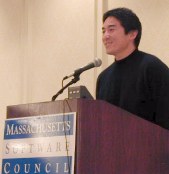 Guy Kawasaki

He also said that:
"The Internet saved digital cameras."
Better picture of Esther Dyson

I didn't like the
picture
I got of Esther Dyson at her conference last spring, so when I was at Agenda 2000 last week I tried to get a better one. Esther is best known for her newsletter, her conference (PC Forum), being interim chairman of ICANN, and more (check out her
web site
). Here's my latest attempt: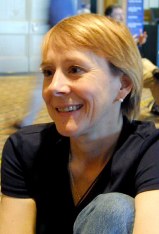 Esther Dyson

She was a little uncomfortable with me sticking the camera in her face... I'm kinda torn between getting pictures and having people not run when I get near them. In this case, the picture won. Sorry, Esther.
Why I'm doing this log

This is the day I finally start a log. I've been taking pictures and making observations for months now, often making "albums" of events. At least three public albums came out of this so far:
In addition, I've made numerous private web sites for family and friends chronicling events like vacations, weddings, bat-mitzvahs, and high school sporting events.
I've even written about what it's like
making the albums
in a web site I created just for that purpose,
WebPhotoJournals.com
.
What I've learned is that people to whom the subject matters love these web sites. A common comment is "I feel like I was there" (especially if I include recorded sound). The other observation is that people get spoiled and then expect them, and expect them immediately. ("It's already 12 hours after the event, where's the site? Is my browser broken?") I use Trellix Web to make my sites, and it's quite quick and easy, so many things are done the night after the event, but no matter what I do, going through hundreds of pictures, choosing and ordering the ones that tell a story, sizing and cropping them, and writing comments, takes at least a few hours. (I did a wedding web site this past Sunday night and it took my sister-in-law and me about four hours to create a site about a wedding that day. We ended up with about 80 pictures and two 2-minute audio segments. I took almost 300 pictures -- amazing how you can take so many with a digital camera.) I can't do this all the time.
In addition, I don't always have a long story to tell. Frequently it's just one picture or one quote I hear at an event that I'd like to share.
Weblogs seem to be increasing in popularity, so I thought I'd try making one in my own style. Weblogs that I see seem to be either lists of links to recent articles on the web with a bit of commentary, or very personal diaries. In almost all cases, pictures are not a major part.
In my role as Chief Technology Officer of a company that makes a web site creation tool for regular, non-techie, people I try to live the life we expect our users to live when it comes to web authoring. Hence I have a personal professional site (
www.bricklin.com
) where I keep a bio, answers to common questions, etc., as well as computer history stuff. I also make lots of web photo journals of family events. This has helped my company, Trellix Corporation, and actually helped drive us into the web site (as opposed to Int
RA
net and business document) space. (I got to explore that other world with my
Good Documents
web site a year or two ago.)
I decided it was time to learn about daily (or at least a few times a week) updated sites. So here it is. Let me know what you think.
[This is the end of my log. It just got started!]