Tuesday, November 30, 1999

Editing software for my Palm III and the keyboard

Monday, November 29, 1999

Palm stuff

I complained in my
Stowaway keyboard
writeup about the
Palm Memo Pad application size limit
. One of my readers (I'm waiting for permission to post his name) suggested that I try
SmartDoc
from
Cutting Edge Software, Inc.
, a program he liked. I checked some reviews and it sounds like one of the few editing programs for the popular Doc file format for the Palm OS. I purchased a copy from them ($19.95) and will let you know how I like it (I have some meetings tomorrow). A simple test says it works with the keyboard.
Printing vs. the Web

This weekend I had to make some paper prints of a picture I took with a digital camera at a recent wedding. The bride needed the reprint for a collage, so a screen image wouldn't do. I couldn't get her the print right away, since I had used up the color cartridge on my inkjet printer, and had to wait for a new one to come in the mail (and an extra for backup this time). (Actually, I first went to a local store, but they didn't have the one for my model in stock.) When I finally got around to printing, I had to play around a bit to get the new cartridge working, cleaning it an extra time or two, and wasting some test pages. Now I have to figure out how to get the copy over to her house. Should I mail it or call her to pick it up?
This was all a reminder of how spoiled I am by using the web and Internet. I just copy the pictures from my camera to my laptop, look them over in a slide sorter, and insert them into web sites. Drag the mouse and they're cropped and sized. Click a button and they're on the web, shared. (Well, I do have to plug into a phone line and dial up when I'm at home for now, but that only adds a minute total.) No muss, no fuss, no extra cost. (I hate watching the "ink left" go down so fast on inkjet printers. Prints are so expensive, especially with the nice glossy paper.) Admittedly , my "digital darkroom" and printer produce prints easier than my old "chemical darkroom", but the distribution with the web is so much nicer. (Also, remember I use Trellix Web, which really is easy and quick to use for my purposes.) I sent out dozens of "copies" of the "original" full-resolution images of my Comdex pictures to people who were in them last week. Only took a few seconds each (plus a little letter to say "Hi!"). No mess, no stamps. They can use the ink and paper if they want.
One of the guests for dinner this weekend had not been to my niece's Bat-Mitzvah on a Sunday a month or so ago in Pennsylvania. A few clicks of the mouse and he could see the event, pictures of his family there, etc. It's great to be able to show pictures without having to carry them around all the time.
On the flip side with respect to pictures, I went to two Bar-Mitzvah receptions in the last week or so and didn't take any pictures. It was a treat to just have fun and not have to look for good shots. The web doesn't change the difference of being in front of the camera having fun vs. being behind it to record the fun. I used to take lots of pictures in high school for the yearbook and as a hobby. My social life improved quite a bit when I stopped taking the pictures. I didn't get heavily into still photography again until I needed to learn about this new medium of personal web photo journals. Luckily, the tools are easy enough to use and my results compelling enough that other family members and friends are starting to do the work I started.
Wednesday, November 24, 1999

Thanksgiving and 20 years of VisiCalc

I plan to take Thanksgiving off from writing this log (but you never know...), so I'm posting this today, not Friday.
One of the many things I'm thankful for is the success of VisiCalc. The earliest copy I have is from what I think is the second production batch. This is what you would have received: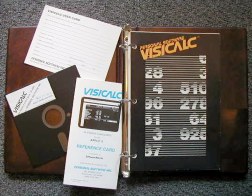 VisiCalc package from 1979

You can see the diskette (5 1/4"), reference card, registration card, and binder. The diskette has a date stamped on it: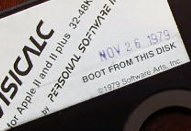 November 26, 1979

A new book on entrepreneurship

A new book was published yesterday,
The Origin and Evolution of New Businesses
by Amar V. Bhide (the link goes to Amazon.com and if you buy it through the link I get a referral fee

). George Gendron, Editor in Chief of
Inc. Magazine
calls it "The single most significant contribution to our understanding of entrepreneurship to date."
The book uses research done by studying in great detail the Inc. 500 list of growing companies, as well as through interviews with entrepreneurs and well known start-up "war stories", to create a serious textbook about entrepreneurship as it really is, not as we believe it to be when viewed through the eyes of large-company economists. (He did face-to-face interviews with the founders of 100 of the 1989 Inc. 500 list.) For example, in describing the distinctive qualities of entrepreneurs on page 113, he finds that they do not fit the common image as being irrational, overoptimistic risk-takers. Rather, compared to the general population, they have a lower aversion to ambiguity, a lower propensity toward information biases, and can exercise greater self-control. "And they rely on exploiting others' cognitive defects and reflexive tendencies to secure the resources they need." They don't need "'superhuman' qualities; long-term vision, foresight, charisma, and so on do not play a significant role in the success of most start-ups." In his conclusion, page 361, he points out that "High uncertainty and low capital and opportunity costs create a 'heads I win, tails I don't lose much' proposition for entrepreneurs."
I know Amar, since he went to Harvard Business School the same time I did (he's now an associate professor) and has had me speak in his classes many times. I saw a prepublication copy and wrote this blurb that appears on the back jacket:
"Anyone who wants to start or grow a business should read this book. It combines rigorous analysis with data and field research on hundreds of new ventures. As a third generation entrepreneur, I found Bhide has accurately captured the challenges entrepreneurs face and their freewheeling strategies for success."

This is a real textbook in the depth it goes. For example, it has 24 pages on VC-Backed Start-ups, though only 5 percent of the Inc. 500 started that way. Much of the book compares and contrasts start-ups with other ventures, such as large businesses, and with seeing the impact of various personal and strategy attributes (with lots of fascinating anecdotes).
Just as people like seeing pictures of themselves, I think entrepreneurs will want to read a book that portrays them realistically in a depth not usually seen.
Tuesday, November 23, 1999

An associate get his money

I put
links
on my web site
to Amazon.com
when I recommend or mention a book. Being one of their "associates", Amazon.com pays me "referral fees" if someone actually buys a book after following one of my links. This "
affiliate marketing
" channel is also used by BarnesAndNoble.com and others. Companies like
Be Free
have services to help merchants set up affiliate (associate) programs. (Amazon and Be Free are partners with Trellix Corporation in this area to help put the right links in pages.)
The theory is all well and good. Today I got the fruits: A check came in the mail. Not a very big check, but something reasonable given that I don't push it very much. I find the links to book sites or other product sites are helpful to readers who want more information even if I didn't get paid. Direct links like I do for books let you immediately get details on a specific product. The fact that I get paid is a piece of the new economy and Internet business model.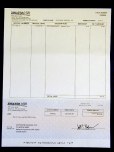 Check from Amazon.com

I have had some
ethical questions
about who gets the money and wrote a little
essay about it
last February.
Some examples of Internet improving productivity

I read in last Saturday's Boston Globe Real Estate section, in an article titled "
Construction goes high-tech: Internet helps streamline process, contributing to boom
", about a major builder who uses
net cams
to let him sit in a meeting in Boston and pan one of his construction sites in New Jersey.
Email, digital cameras
, and other uses of the Internet let him meet accelerated construction schedules
without
incurring the
late penalties
that can run as much as $10,000 a day. The builder, John Tocci of
Tocci Building Company
, said he couldn't keep up with today's pace without the new technology.
To find the Boston Globe article from 11/20/99 you can go to the
Boston Globe Archive Search
and search on "Tocci", the builder quoted. I'd link directly to the article, but the Globe, like some other papers, gives new news away (today and yesterday's paper) but often
charges for old news
(a switch from the old days when you wrapped fish in old news) and doesn't give you permanent URLs. They charge $2.95 to retrieve an article during the day and $1.50 at night (being nicer to school children doing research, I guess). I've actually spent the money when I was desperate, but that was for two or three 4-year-old articles in one year.
I also recently heard about an organizational job that had been performed by a full-time person that was completely replaced by a web site. This Internet revolution, with increased productivity, is really visible on the ground, as they say, not just in the stock market.
Sunday, November 21, 1999

Stowaway keyboard observations

I've had the foldable Stowaway keyboard for a little over a week now. I've put
my observations
from using it on a page of their own, the
"
Stowaway Keyboard
"
page. I think note taking in meetings will be a killer application making these a must-have item to go with your PDA.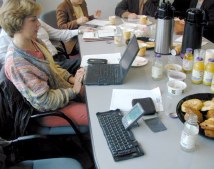 Comparing PDA with keyboard to a laptop

Finished Comdex Journal

I added the last pictures to my
Fall Comdex 1999 Journal
. I put in the
Ride Home pictures
, added a link to the sound of Bill "Austin" Gates saying "
I put the sin in syntax, baby
" on the Gates Keynote page, and added some links to the Spencer party page about my words ending up in the Washington Post. The journal totals about 180 pictures out of the well over 500 I took.