Thursday. December 30, 1999

I'm on the radio tonight

I'm scheduled to be a guest on
CompuDudes
, a radio program on WHYY 91 FM in Philadelphia. The show runs from 9 pm to 10 pm Eastern time tonight (Thursday, 12/30/99) and has a live RealAudio feed for the Internet. I'm supposed to be on in the middle, I think, for about 10 minutes.
I hope to have a
webcam
running during the show (don't expect it any other time).
This is a local show which is on the same radio station that produces
Fresh Air
with Terry Gross for NPR, but this is not
Fresh Air
. It would be nice to be on her show, too, but she seems to mainly interview book authors and musicians, not web log writers. Maybe in the next millennium web log authors will "count", too.
My Mom reads this

I was talking to
my mother on the phone
tonight and she said: "You don't have to tell me much about the event yesterday,
I saw it on your log
. Were Myra's parents there?" So now I have a new use for this log: Keeping my parents up to date. Well, Mom and Dad, don't forget to listen to me on the radio tonight at 9 pm (they live in Philadelphia). And if you point your browser to the
webcam
, you can see me, too.
Here are some shots of them that I took when I went to Philly. My mother received a major award at a dinner in her honor from
Akiba Hebrew Academy
where she is principal of the Middle School: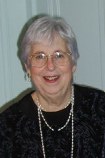 My Mom and Dad the night of her award, December 12, 1999

David Ross, the new judge, officially known for his puns, writes: "I especially like the picture of you in the suit. If you wear it only on occasions such as this, do you refer to it as your law suit?" David's local paper
wrote a story
about the event, too.
I've been saying that the Internet, including web sites, is the way we will be communicating with our loved ones in the future. From my perspective, it's happening now.

Installing a judge

As I mentioned yesterday, I went to see my cousin David Ross administered the oath of office to become a judge. After a very nice ceremony he's now an Associate Justice of the Chicopee Massachusetts District Court. Having just spent a lot of time struggling to install a variety of USB peripherals on my computer, I only wish that Windows installations would work as well.
I sat near the front, right behind a section reserved for judges. Sitting behind a dozen or so robed people was a bit intimidating. There was a brass band, too. David's family loves music -- one of his daughters played Mendelssohn's Song Without Words as a musical interlude.



There were many judges in attendance and a brass band

Here's David being sworn in by the Lieutenant Governor: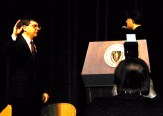 Being sworn in

While the ceremony had official pomp and circumstance (the Court Officer in Charge started and ended it with "Hear Ye! Hear Ye! All assembled..." or something like that), everybody concerned made sure we knew of David's sense of humor and dedication. We learned of the costumes he's been known to wear, his puns (e.g., what a "mooving" experience a case about a cow was), and how happy the court is to have someone who knows PCs well joining the office. The participants walked out while the brass band played The Junk Man Rag.
The people in my office couldn't get over the fact that I dressed in a suit for the occasion (yes, I do own a suit):

Me in a suit

To my Microsoft readers who may cringe at the word "judge" and me giving them honor, I remind you that we don't always agree with what they decide. I've experienced that (remember the Lotus/Paperback case? I was an expert witness for Paperback). In our society, and many others, we choose people to make the determinations that we can't agree upon ourselves. We hope that they will have wisdom and be inspired. In the Bible in Kings I Chapter 3, rather than riches, Solomon asked for the gift of making wise decisions as a judge. Later, when he made his famous "cut the baby in half" statement to help find the true mother (an activist judge?) the populous was in awe of how good a judge he was ("None better before or after"). We pray that our judges are as close to that standard as possible.
Being involved with judging must run in David's family: His brother Paul is Managing Editor of PC Magazine (a member of PC Mag's senior management, he handles the production side of the magazine). PC Magazine's Editor's Choices seem to carry a lot of weight. (David married my cousin Myra, so I have no such blood on that side of the family, just a bit on my mother's side.)
You know you're an adult when...

In response to my "Becoming an adult" item, reader Will Fitzgerald writes:
It might be interesting to collect similar statements about how you know you're an adult.
Here's mine: "There's something knowing someone who has had a heart transplant that signals you really are an adult."
Tuesday, December 28, 1999

PR happens

In my
November 10
entry I talked about being photographed to illustrate an interview I'd done a while before. Well, the article finally appeared.
Compare this...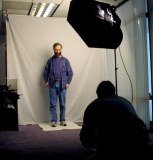 Being photographed

Becoming an adult

One of my cousins is being sworn in as a judge this afternoon. There's something about a peer becoming a judge that signals you really are an adult: What can be more authoritarian and grown up than a judge? No kidding yourself that "they're" the stodgy establishment and you're not. I find that it helped to be involved in court cases to get a feeling for the responsibility our society places on the shoulders of judges. Even being on a jury, as I recall, you look to the judge for advice and approval. I find it even stranger than one of my industry's own becoming the richest person in the world: That felt more like the revolution of technology showing its strength.
Monday, December 27, 1999

Skiing and iBusinesses

I went skiing yesterday for the first time this year. (Usually I get to go once or twice a year.) I'm not that good (I usually ski novice or intermediate slopes), but I love the feeling of the ski edges against the snow.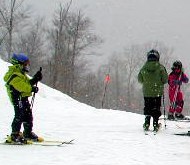 About to start a run down the mountain

As usual, I got to thinking about the Internet. Skiing, from my viewpoint, has an analogy to running a business in today's increasingly Internet dominated world.
When you first learn to ski, you learn a technique (the "snowplow" or "pizza wedge") that seems to give you complete, constant control while you learn about being on snow:

Snowplow

On a simple slope with good snow, it works well. Not much thinking. Doesn't work as well on ice.
When you get more advanced, you learn to use straight edges (skis or snowboard). You're really careening down the hill without complete control, sometimes in the air, but whenever you need to you can dig the edge(s) in and do exactly what you want. Free fall with constant deliberate midcourse corrections: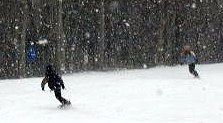 Using the straight edges

With these techniques you can go much, much faster, and can handle a wider range of terrain. Start down a hill and made decisions when you need to. When you use your skill and tools to react to the terrain at high speed it's an exhilarating feeling.
Using the Internet in business is also unfamiliar terrain to everyone, and with no clear winners we're all trying to go as fast as possible to be number one, so conservative snow plowing won't work. We may fall headfirst onto the ice if we hit a bad patch and use the wrong technique, but until then, boy does it feel good.