Tuesday, February 1, 2000

Happy birthday Mom!

Today's my mother's birthday. Since I make reference to her here periodically, and she reads this log, I thought I'd acknowledge it here. (If any of you know her and want to add your words, send them to me and I'll forward the emails to her.

)
Open access: The "stone soup" model of business growth and development

There was an op-ed piece in the Wall Street Journal last week that, in very strong words, called on AT&T to stay away from open access, saying that everybody knows that "merely carrying digits" will give poorer returns to shareholders than a closed system with their own content and services.
I've posted some reactions to this from my friend David Reed. David makes some economic arguments, backed up by history, that in an area with innovation like telecommunications an open system can be more valuable because of the "option value" of future innovations by others. He says that "[the statement] 'Connectivity needs to be subsidized by content'...is demonstrably incorrect".
Posting from the plane

I write this at 37,000 feet and the phone in the seat back in front of me calls out with ""Improved Data Speed!!! Improved Data Calls, $1.99/minute, No Connection Fee (thru 03-31-00)". As I wrote yesterday in "
Server vs. Client Authoring
",
there are times when off-line authoring really wins. This is one of them
. I've spent a long time writing all of today's material, including the separate page on Option Value, but I can't see running dial-up at over $100/hour to do it. Posting something written and organized into the web site off-line, though, is fine, since Trellix Web does it pretty fast and only sends the pages that have changed.
[I try to post. Then I added:]
It worked! It took 4 tries to dial up. My dialing into Trellix Corporation's internal system would answer but kicked me off after verifying. My dial into a normal ISP (Prodigy, one of Trellix's partners) connected correctly on the second try. I brought up a browser to see if I was connected (I was) and then pushed the "Publish" button in Trellix Web. A minute or two later ($2-$4 later) it said it was done and I pushed "Preview" and checked -- yes, the message to my mom made it!
I took some pictures while doing it. The stewardess, Marti, came over to give me a drink ("Coke", "Is Pepsi OK?" "Yes"). I told her it was OK to place it on the tray table next to me as long as she didn't knock the phone -- I was posting a birthday message to my mother and stuff for thousands of others to read on the web. (But I guess she's used to hearing that with the Airfone service...)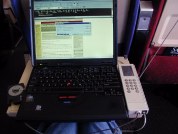 My set up in the plane; stewardess watching

Here's a screen capture taken during the publish showing the connection speed: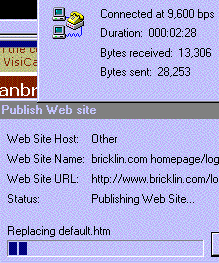 Screen capture during publishing

Now, time to spend a few more dollars and post this stuff, too.
[Back home:] The second post, with pictures, took under 4 minutes ($8), but that included checking again and a slow ISP/Hosting service FTP combination. If you post on an expensive connection, make sure your ISP logs you in quickly and has good response!
Monday, January 31, 2000

A week without posting

It's been almost a week since I last wrote something for this log. It's strange how you get used to finding things to write about and then miss expressing yourself to others. I'm on a plane now and don't have access to much of it. Hopefully, at some point I'll find some of those things again and have time to write about them.
There is one area I've been thinking a lot about: Where should web authoring be done? When should you use a browser- and server-based tool and when a client-based tool? I put some thoughts in
"
Server vs. Client Authoring
"
.
Monday, January 24, 2000

Massachusetts Software and Internet Council meeting

This morning the
Massachusetts Software Council
had its
annual membership meeting
. It has many other meetings, but this is the one where trustees are elected, etc. First order of business was the announcement that the name has been changed to "Massachusetts Software
and Internet
Council". Just acknowledging the obvious.
The first guest speaker was
Representative Martin Meehan
of the 5th District of Massachusetts in the US Congress. He serves on both the House Armed Services Committee (voting for export of encryption products), and the Judiciary Committee (likewise).


Rep. Meehan speaking, talking informally afterward

He said that he felt the White House changed their tune on encryption because of Congressional pressure. Asking to hear from us to learn, he said that
"...things are moving too fast for Congress to figure it out on their own, they need your input."
(My quotes here were typed into my Palm III using the
keyboard
-- I didn't bring my recorder. I hope they are accurate.) He thinks Congress will allow Baby Bells to get into the long distance data market (deregulation) more likely than they would force Open Access (regulation). The AOL/Time Warner merger (including the "crown jewel NYC" cable franchise) will mean Open Access will lose its main proponent. He feels that the labor shortage (making us want more H1B visas) is related to bridging the digital divide between the Internet "haves" and "have-nots" in our society.
Next, the Council presented the annual "Above and Beyond Awards" to educators and volunteers in Massachusetts schools. They received the awards (which include a monetary grant) for things like running a high school class project that used GIS software for siting retail businesses, 3rd and 4th graders creating a "soil museum" with a database of soil samples collected from friends around the country including computer-stored microscope images, and a kindergarten class web site for showing parents and grandparents their work.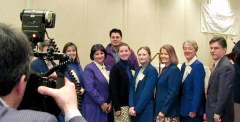 Award winners and the Congressman

The new chairman of the Council is Shikhar Ghosh, President of
iBelongNetworks
, formerly of Open Market. In his first remarks he talked about the financial markets' change from "Price to Earnings" ratio, to "Price to PR", and now "Price to Yearnings". Here's a picture of him from the Council Executive Board meeting last week:

Shikhar Ghosh, new chairman

Finally, it was time for our main industry speaker,
George Bell
, the
new
CEO of Excite@Home
. Even though he heads a company that is mainly on the West Coast (they have 100 employees in Massachusetts), he recently moved back to Brookline, Massachusetts (because his family wanted to). Excite@Home bills themselves as the "Leader in Broadband". He has a very strong background in broadcast-style content (ABC, CBS, Times Mirror Magazine) and from what he said it seems
he sees the broadband network mainly through its use for content distribution
. "Content is the deepest form of loyalty -- you don't go to the movie theater because you like the seats."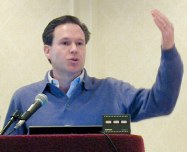 George Bell speaking

Excite@Home is very involved in the personalization of the information you receive. He's not worried about page views. "Now the measure of success is time spent...More content, fewer pages." Rather than focus on search engine results, they'd rather show you specific pages that meet your needs to keep you within their network. He said that people spend 20% more time on a page of Excite than Yahoo!. He talked about very successful direct mail campaigns to switch dial-up AOL users to Excite@Home cable-modems by paying for a 2 month overlap so they can tell people they're new email address. They want to be available in many places: "Content seeks ubiquity".
One of the great things about such meetings is seeing people, and watching others "network". Here are three members of the press I ran into:



Maria Shao (Boston Globe), Eric Lundquist (PCWeek), and Jeff Tarter (Soft*Letter)

You also see the movers and shakers run into each other and the press interacting with them: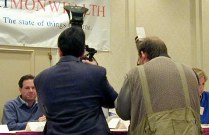 Excite@Home and Lycos spar, George and Shikhar get photographed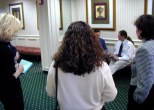 George gets interviewed by the press one by one as they each await their turn

All the pictures in this item should make up for the lack of pictures the last few weeks. Getting out of the office really helps!
Dave Winer gets a digital camera

In preparation for his trip to the Davos conference, Dave Winer got a digital camera. He posted a few gorgeous pictures of the area around his home as 130KB+ GIF images rather than the more common and compact JPEGs most sites use for photos (50 seconds vs. 10 seconds each with 28.8 modems). I sent him a note asking why (thinking perhaps he's one of those purists who don't want to lose any pixels), but he wrote back that no, he was new to digital photography and its relation to the web, and just posted the pictures as they came out of the camera and its software. I, and eventually others, sent him some pointers on how to make the more browser-friendly images.
An interesting point here: In usability tests we have found that the process of taking pictures and getting them to the web is totally new to almost everybody. Some see it as a complete mystery. You can see that this lack of knowledge is true even for a web veteran like Dave (who has taught me a lot about the web and is quite bright and technically adept and probably dreams in HTML, and has posted many of other people's photos). We have a long way to go before regular people will find the process natural and obvious.
In his
Davenet column this morning
, Dave posted that he liked how Dan Gillmor and I use photos on our web sites, and that we were the inspiration for him getting the camera. Great! Thank you, Dave, for letting me know my crusade to bring more than words to web journals had some effect. May we and you inspire others who publish on the web to do the same.
For others of you who are new to digital photography, let me give you a few links that I sent to Dave:
I have a web site,
www.webphotojournals.com
that presents some of my ideas and techniques for using photographs, especially the page on
GIF vs. JPEG
. I also discuss cropping, sizing, and other
techniques
I've run across in the year and a quarter I've been carrying a digital camera and posting photos to web sites. Another site, from a great Web photographer, belongs to
Philip Greenspun
and he has a page that discusses
image format
. To learn about particular cameras, check out Phil Askey's web site,
Digital Photography Review
. Good luck!