Thursday, May 11, 2000

Compaq Research

One of my co-workers at Trellix sent me links to some of the work at Compaq's Western Research Lab. (I believe it used to be Digital's Palo Alto research lab before the acquisition.) The lab is best known for developing the original AltaVista search engine.
The Lab lists its
current projects
, which include the Itsy pocket computer and the "Rock 'n' Scroll" interface. The
Itsy computer
(it looks no bigger than a Palm or Visor) is described along with
downloadable specs
so you can build your own (even if it does use their microprocessor that's a real open, academic-like thing to do!), and the specs include a
version of Linux that can run on it
. They have
videos
of using the
Rock 'n' Scroll
interface on Itsy to play Doom and to view a photo album by
tilting
and gesturing while holding the computer -- pictures change like on a "Magic 8 Ball". Way cool!
Tuesday, May 9, 2000

Visor eyemodule photos

Scott Kirsner, writer for the Boston Globe, Wired, and Fast Company, took pictures at the
Nantucket Conference on the Internet Economy
, May 2000. He used a
Handspring Visor
PDA, with an
IDEO
eyemodule
plug-in digital camera
.
The eyemodule was introduced at the Demo 2000 conference. Apparently, it's now shipping.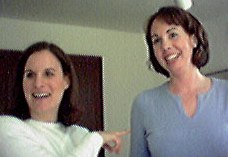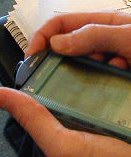 A picture Scott took with an eyemodule, my picture of Scott's Visor with the eyemodule camera plugged in


Nantucket Conference

I just got back from the Nantucket Conference on the Internet Economy. Speakers included people from Boston.com, Staples.com, FleetBank, Toysmart.com, and Bob Metcalfe.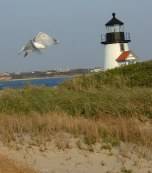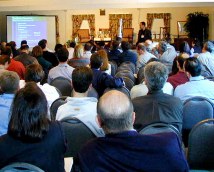 What Nantucket can look like vs. what we saw. It was nice anyway.

While I was there, I dropped in on a film shoot Trellix Corporation happened to be doing for a marketing piece. We were
filming one of our happy Trellix Web users
, Kevin Shore of "
A Shore Thing
". His company does clambakes and other seafood catering, so we were filming him doing a clambake. (It was on a beach near our hotel, and it was there that I took the lighthouse picture, above.) Kevin found out about Trellix Web through our relationship with
DellHost.com
and DellHost hosts the web site he produced with it.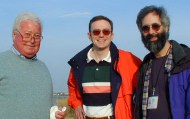 Kevin Shore, Brian Mullins of Trellix, and me; filming starts

His web site explains what a traditional Nantucket Pit Bake is:
Held on a beach or any appropriate setting, this is the most memorable and savory of New England experiences. We start in the morning, building a large fire in a pit, layering wood and rocks together. About three hours before serving we cover the hot rocks with bushels of fresh Rockweed containing gallons of fresh sea water to create the steam for cooking. Then we stack all the ingredients on top, cover with sheets, more Rockweed as insulation, then layers of canvas to seal the bake. At serving time the covering layers are removed, unveiling the steaming bake and the delicious aroma of a real Pit Bake covers the area, whetting the appetites of your guests and making for a visual as well as culinary feast.
Our camera crew filmed the uncovering with the steam billowing out: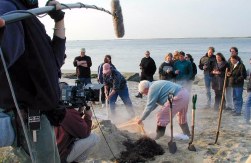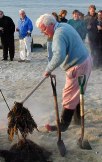 Uncovering the baking dinner and removing the Rockweed

Here are a couple of other shots: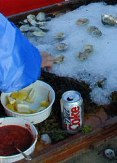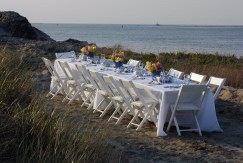 Appetizers and the table

I didn't know much about this New England tradition before reading his web site. As usual, the web brings you interesting things you never knew that fill the lives of others.