Saturday, November 25, 2000

Sony eMarker: A clever system

While walking through Fall Comdex 2000, I came across a product in the Sony booth that impressed me with the examples it presented about constructing a system. I wrote it up in detail.

Sony eMarker with USB connector showing

Sunday, November 19, 2000

Finished the Comdex journal

Wednesday, November 15, 2000

The Palm Beach Sample Ballot

In discussing the usability of the Palm Beach Country "Butterfly Ballot", the question of the Sample Ballot often comes up. Was it helpful or confusing in comparison to the actual voting situation? To help people investigate that, I was able to obtain one of these booklets. I think that looking at it helps understand additional usability issues.
Yet more Comdex

I've added two pages about Tuesday at Comdex, with comments. Still to come: General observations.
Tuesday, November 14, 2000

More Comdex

I posted more pictures with comments from Comdex late tonight. See
Fall Comdex 2000 Journal
-- both Monday pages are new.


Comdex was really WirelessDex, MGM lion

Monday, November 13, 2000

Usability and safety

Posted again

After a little sleep, I filled in the narrative about last night.
Posted first pictures from Comdex

I just started my Fall Comdex 2000 Journal. Lots of pictures, but no real news. It's more of "A Day In The Life" style, written as if it was for friends and relatives, as well as people who have attended Comdex with me. It may give you ideas for making your own trip/party/event web photo journal (hopefully using tools from Trellix Corporation...).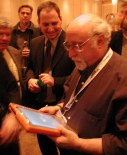 Walt Mossberg holding a Microsoft tablet computer prototype

Sunday, November 12, 2000

Usability is still in the news

There are reports in the news about 2nd graders marking ballots arranged like the ones I wrote up in "
Ballot Usability in Florida
". There are interesting parallels.
Comdex 2000

I'm off to Comdex this week. I'll try to post a journal with lots of pictures. Check back tomorrow.