Monday, March 19, 2001

405 - The Movie

A friend of mine who is a film producer told me about the movie "405" a few weeks ago. It shows the power of today's tools in the hands of people who care and have little money. Apparently it is a major inspiration to "independents" in many fields. Thanks to the Internet, it has been seen over 3 million times.

"Official" picture

If you don't know about it,
first watch the movie
. It's only three minutes long and worth it (it's quite funny). You can find a
streaming copy on the
405 page of iFilm.com
.
After you've seen it
, go to the film makers' web site and
read how it was made
. Its really cool to read how they did it and the details of the care they took.

Traveling with handheld wireless and trains

I've been doing a bit of traveling the last few weeks. Here are some notes:
I was at the Ft. Lauderdale airport in Florida and noticed a huge plane just sitting there. Nobody knew what it was, but at least it had a big name on the tail: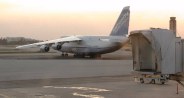 Big plane and close up of tail

Luckily I live in the new wireless Internet world! I pulled out my RIM 950, and typed in the URL for the Google search engine:


What is that plane? Call up Google on my RIM

It seems Google is tuned for such wireless use. The display was very simple and to the point. I found some references to the plane:

Search results list

Finally, I read that this was a Russian transport: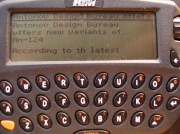 Details

Cool! Was finding this out worth $40 or so a month for a normal person? Probably not. Was it fast enough to answer questions in real life? Not if I wasn't just waiting around. Luckily my plane was late so I had time for playing around like this. Not good enough for a TV ad selling wireless...
I have an old
writeup
of the RIM 950 where I
timed typing
on it. I tried "typing" on my cell phone to see, once I practiced, how long that same phrase would take.
Cell phone: 8 WPM
, Palm Graffiti: 15 WPM, RIM: 25 WPM, and Stowaway keyboard: 65 WPM. (This is with practice -- your results may vary. I usually go much slower in real life.)

The train

I'm typing this several days later while riding the train from Connecticut to Boston. (The train actually competes well now with the plane from New York.) Here things are good: The ride is somewhat smooth (that "train" feel), but the business seats have a 120 volt outlet. The power goes off every once in a while when pulling out of a station, but just for a few seconds -- no problem for a laptop. Even better, there's lots of room, even when the person in front of me puts his seat back.



Taking the train, with lots of room and power

If only they had 802.11b wireless Internet access, then things would be perfect...
Friday, March 16, 2001

Your mother's web site and Bob's essay

Some things worth reading:

Evan Williams
pointed to a nice satire, "
OY, YOU NEVER VISIT YOUR MOTHER'S WEB SITE
: Not That You Should Care, Mr. I-Have-My-Own-Site-Now
", on SatireWire.com. Given that some of my family learns about my life through this log, and others who don't read it regularly have gotten used to me responding to a question with "I wrote about it on my web site last week", the satire hit a little close to home.

Bob speaking last week


Bob Frankston
wrote an article for ZDNet, "
The prerogatives of innovation
". Bob complains about the belief that products should be designed by "experts" at big companies to be smart and not let mere users "mess up" with their own local control. He contrasts the failed Internet appliances and "residential gateways" to the successful Internet. He writes: "
The Internet defies common sense. How is it possible that millions of people without central control created something as widely used and as important as the Web? The answer is in the architecture of the Internet that gives each system responsibility for protecting itself against the network. In a centralized design, failures propagate.
"
Wednesday, March 7, 2001

Legal implications of the Napster injunction and more about directories on the Internet

Digging out from the snow (we got a lot) slowed things down here, but the Napster injunction and other things just called out for some comments.
Here are two new essays:
Discussion of directories on the Internet
:
There are many discussions relating to the Internet that involve directories, such as the DNS and Napster. This essay is a general discussion about such directories.
Friday, March 2, 2001

More benefits from the common

In honor of Napster's trial hearing today, I've added a few more thoughts to my
Cornucopia of the Commons
essay.
There is lots to learn from Napster
, and I assume we'll be finding out more for a long time. (I guess many people are marking this day. For example, see Larry Magid's essay "
Is this the day that music dies?
".) As you may recall, my essay was about how Napster is the type of system in which the more users it has the more valuable it becomes.
Here are my new comments:
Evan Williams wrote some comments that are relevant here. He points out that
a good volunteer-created database should be designed with incentive for the entry of accurate information
. One way is to use data that you rely on yourself, such as with CDDB. You can read Evan's comments in his
February 16 entry
.
Talking to experienced Napster users, I've discovered another benefit from increasing the number of users: More users increases the likelihood that a song will be indexed in a way that helps you find it.
While songs have an "official" title, not everybody knows the song by that name. A normal simple database would have just that text. With Napster,
since people name the files in ways they feel will help them identify the songs themselves, many use more discoverable names than the "official" title
, such as the chorus. Some people provide a mixture with one name in parenthesis. For example,
Harvey Danger's
song "Flagpole Sitta" is known by many people as "Paranoia", and a large percentage of the copies available through Napster are named that way, some with both. You'll find music files with both "Ode to Joy" and "9th Symphony" in the names, etc. Note that you don't have to be the original provider of the song to add value this way -- you could rename it after you got a copy to help yourself find it on your system later.
So, here again, more users increases the value, this time by adding human created variations.
This is another part of the bar recording industry-provided systems will have to get over if they want to serve music lovers as well as Napster. It isn't just price.

Thank you, Julianne!

Longtime readers of my web writings may recognize the name
Julianne Chatelain
.
Julianne has been the first reader of almost all of the posts to this log and the rest of my web site
because I run down the hall into her office as it's uploading to show her.
She has served as my editor
, correcting my constant series of mistakes, giving me encouragement, criticism, and ideas. She was my main collaborator on the
GoodDocuments.com
web site, and was one of the few others who worked with me with my muse for that site, Professor
Chris Daly
. A science fiction writer, whenever we needed fake, sample writing for a demo, she came through, often overnight (for example, she did the
Kappa document
in my
On-screen Business Documents
speech, and many other Trellix samples).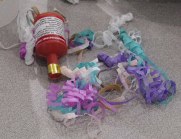 Julianne at the party, one of the many Party Poppers she provided us to celebrate our "explosive" products

We had a goodbye party for Julianne today. She's leaving Trellix for personal reasons that we all support. While I normally don't chronicle the comings and goings at Trellix (luckily we have more of the former than the latter), this one is special because it relates to my web site writings and my readers. I've always believed in the value of having your writing go through an editor, and she has reinforced that belief. For Trellix it is a sad day, because besides being the first development hire after our original pre-funding group five years ago, she was instrumental in getting us (and me personally) into usability testing, and other contributions. She also was a wonderful, positive personality around the office, which helped set the great tone we've had here. She'll be missed. (And pardon any increase in typos and awkwardness in her absence.)