Friday, October 19, 2001

Back from Agenda

Well, I'm back from Arizona, but a cold has slowed me down some. I don't really feel up to doing a full report this year. There were interesting talks (on and off the stage), but I have too much else to do. Sorry to those of you looking forward to seeing pictures of old friends.


Here I am sharing
old pictures
of the Agenda when George W. Bush attended with Stewart Alsop; Stewart reminiscing during the 15th anniversary of him starting the conference

One thing I noticed I thought I'd mention: One of the presenters demonstrated a product a common way. He used a "topical scenario" to try to make it interesting. His demo included web pages about Osama bin Ladin, the Pentagon, etc. Like jokes, topical demos are always risky. Different audiences can take them different ways. I found the terrorism theme distracting and slightly offensive. Others just called it "inappropriate" and said it got in the way of his message. Since the company usually sells to defense agencies, perhaps it's OK for his market. For a conference where they were checking bags each time we entered the ballroom near an airport that made you send your shoes through x-ray and with an Akamai founder as a speaker, though, it bothered me to trivialize a report about terrorism with a quick demo. (Of course, his system had a major glitch and he had a few very embarrassing moments on stage to pay him back the discomfort.) So, if you are thinking about doing a demo with a topical scenario, think carefully.
The final dinner speaker was
Prof. Larry Lessig
. He really understands the value of building upon simple infrastructure and the dangers arising from entrenched BigCo's. I'm looking forward to his new book coming out in a few weeks (
The Future of Ideas: The Fate of the Commons in a Connected World
-- you can read
the summary
on Amazon).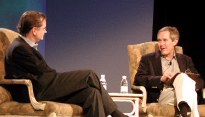 Prof. Lessig, on stage with host Jim Fallows -- a format used for most of the "presentations"

Monday, October 15, 2001

At Agenda

I'm sitting here at the Agenda 2002 conference trying to listen. It's very hard to use your laptop and pay attention, so I'll only post a short piece because I want to listen to the speakers.
As you would hope, Cisco provided 802.11b connectivity and the conference put A/C outlets in several rows of seats.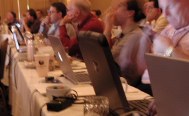 The lucky ones with enough A/C

Jeff Hawkins of
Handspring
showed their new "Communicator" -- a combination PDA/phone/Internet device. It is way cool. It feels soooo nice in your hand. (Not available until very early next year.

) Here are some pictures: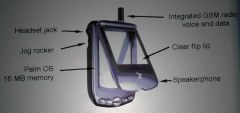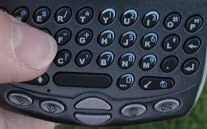 Some pictures of a Handspring Treo 180, along with Jeff Hawkins and compared to a Nokia 8260 and a Kyocera QCP-6035

That's it for now.
Sunday, October 14, 2001

My state of mind

Yesterday afternoon I went hiking around a local "mountain". It's almost peak leaf-watching season. Walking around, you see all the beauty of nature. It was foggy, with a wet mist everywhere. It reminded me of life these days. All the good stuff is still there, but there is a mist around everything, reminding you of its presence. I especially like the third picture: The path on the rocks requires careful walking, it goes up into the light towards the summit, but a mist obscures the distance.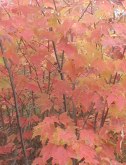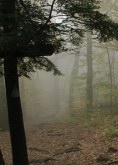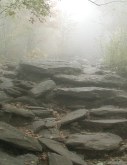 I'm writing this on an airplane on the way to the Agenda conference. It's Sunday, a day the news reports say something awful "could be as early as." Family members have asked "Must you go? Can't you just stay home? Please..." I'll call them as soon as I arrive (as I usually do, but a wider number of family and friends want to know this time).
Security was quite tight at Logan airport this morning. Friendly guys in uniform (camouflage fatigues) asked questions unexpectedly, there were spot searches of carry-ons, etc. Since I packed a minimal amount (well, not of the techie stuff...) I was able to carry everything onto the plane, and I had a paper ticket, so I didn't have to wait at check-in. Total time to the gate: about 20 minutes (I got there 2 hours early). I plugged my laptop into an outlet in the waiting area, and started this. On the plane (in coach), the meal service was a bit different: metal spoon but plastic knife and fork. The knife cut the salad quite well.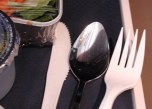 Changes on the plane

Our choices of how to deal with the fear of unknown dangers is interesting. Some of it reminds me of an old camping trip over 30 years ago. I was with several close friends from high school. It was late at night. There were very scary sounds out there in the dark. It sounded like a pack of crazed ducks (but was probably raccoons fighting over some inadvertently left out watermelon). A few of us made a run from one of our small tents to the safety of a car. One friend and I stayed in our lean-to, a common "shelter" for camping. It was basically a blanket hanging on a rope. Inside, with our flashlights, it felt surprisingly safe. (A lot more cozy then the mud at Woodstock that he and I were in a few weeks before.) The "wall", illuminated on our side, seemed solid. Even though it wasn't a real barrier to an animal really out to get us, it felt like it was. Perhaps the light is what really kept us separate. Whatever. We heard the noises keep their distance as you would expect, and fell asleep quite late. Much of what we are doing today is like that lean-to: A minor barrier, but it sure makes us feel safe out of proportion to its real effect. But still, in the back of your mind, you know its not perfect. What you worry about are poor solutions that don't add much safety, hurt us in the process, and don't even make us feel safe.
Other ways of viewing the lean-to: Was the security we thought we had before September 11th like the line from Phil Ochs' song
Changes
that I quoted a couple of weeks ago? "Moments of magic will glow in the night / All fears of the forest are gone / But when the morning breaks they're swept away by / golden drops of dawn, of changes." Or is the metaphor like that in fairy tales when the fears of what you see in the forest are shown to be exaggerated when examined in the light of dawn? Let's hope our growing fears of everyday life are more the latter.
Coincidentally,
last night I went to a concert.
Some friends had gotten tickets and invited me before September 11th. It was
a
tribute concert to Phil Ochs
, something his sister has been doing starting a while after he died 25 years ago. Other performers, usually ones most of us haven't heard before, sing some of Phil's songs and some of their own. Almost everybody in the audience raised their hand when asked if they were there because of the old music, not the new artists, but also they raised their hands when asked if now that they'd heard them they'd go hear some again. A great type of marketing: Use the brand to the benefit of itself and others you want to support. (That's not exactly how they described it, but after all I am an MBA...)
This was a real night for thought. Phil Ochs was well known as an antiwar singer/songwriter during the Vietnam War era. How would it all seem today?
Here is a land full of power and glory
Beauty that words cannot recall
Oh her power shall rest on the strength of her freedom
Her glory shall rest on us all
...
Yet she's...only as strong as our love for this land
Only as tall as we stand
Interesting old words as we struggle to figure out what changes to make to our society.


Phil Och's sister Sonny hosting a tribute concert

Listening to the words of many of the songs, the message I heard was: Love this country for its qualities, its Bill of Rights, and its shared goals; love and respect people everywhere for they are people, too, and deserve to live; question why and how we go to war; do it now because you can't later.
Today is different than the 60's. Opposing that war is not the same as opposing doing something today. What is the same today is the importance of thinking about it carefully. In hindsight, those "anti-American" songwriters weren't so anti-American. They just wanted to think through the goals and methods our government had chosen more carefully in light of the values we all supposedly hold dear and the realities of the world. As we've seen throughout history, there is no one way to wage a war or protect your society. Doing it the way we did it last time doesn't always work. As a designer and an engineer, I've learned that discussion and examination of lots of alternatives, even seemingly inappropriate ones, leads to better results and fewer unintended side-effects. Our challenge is how to carry out that discussion among ourselves without thinking we are, nor appearing to be, a country divided.