This page will list some of the times I see others using the Stowaway keyboard in interesting ways.
On the deck of an America's Cup yacht

During lunch on a day sailing in Newport, Rhode Island (see "
Sailing in Newport
"), I noticed one of the crew members on the
Columbia
12-meter America's Cup racing yacht sitting on deck, using a Stowaway keyboard with a wireless Palm VII. She said she used it all the time. The idea of a picture of a "stowaway" next to the opening to the hold of a boat where people who are stowaways hide was one I couldn't pass up.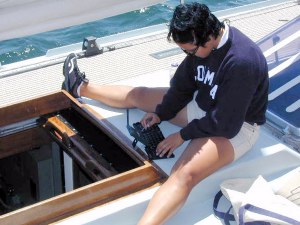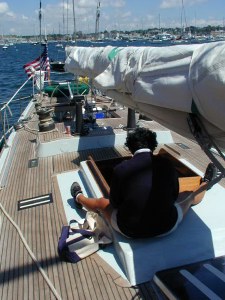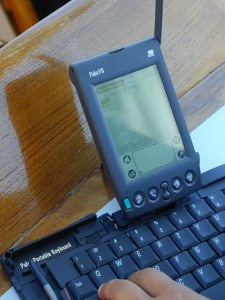 I asked permission for posting the pictures and asked if she wanted her name used. She said "yes". Not having a pen, I asked if she'd send me an email and I'd send her the URL when I used it. You can see her typing it in above.
Here's her email as I received it:
From: ????@palm.net
To: danb@trellix.com
Cc:
Subject: sailing on columbia
Sent: 7/21/00 1:01 PM
hope you had a good time sailing today...my name is kat kowerska i am one of the crews on a 12 meter columbia, in newport, RI. We use the palm VII to keep in touch with the owner of the boat who lives up in Boston. The Keyboard that i am using is a great alternative to the grafitti function on the palm. Its small and easy to use especially for those of us who use a PC on a daily basis. The palm on board helps keep the boat organized (inventory, charter times, e mail, yellow pages etc.) Well gotta run ...keep the captain and first mate on a tight leash( just kidding)
kat
I wrote back:
Kat,
Thanks for the email! If it's OK with you, I'll add it to my web log with a little story about seeing you use the keyboard and Palm VII...
Then, to my surprise, I got this the next day:
From: ????@palm.net
To: DanB@trellix.com
Cc:
Subject: Re: RE: sailing on columbia
Sent: 7/22/00 6:10 PM
dear dan
I have no problem with you putting my pic on the web along with a
little story. We are making a trip up to Boston right now with the
owner of Columbia. Speaking of the owner, i told him about you snapping
pictures of the palm and the keyboard. He was glad that one of the
charter guests was interested in what i was doing. He saw the e mail
you sent to me and immediately recognized your name!!! he said he saw
you using one of these keyboards at one of the conventions he attended.
It was you who gave him the idea to get one of these little devices. He
says he asked you about it am immediately sent one one out to
Columbia!!!! what a small world!!! the owners name is Alain
Hanover...ring a bell?
Kat
So, this really wasn't completely a "Stowaway in the wild", unconnected to me using it. Alain is a fellow trustee of the Massachusetts Software and Internet Council. We've seen each other at board and subcommittee meetings a lot. It was yet another example of how word of mouth, or "I'll get what you get", works in the high-tech toy world.
Another review

I found another write-up of the Stowaway on Hugh Peeble's
Hugh's News
June 2000 page
.
Dan Gillmor

I'm having trouble imagining how Think Outside (www.thinkoutside.com) could significantly improve the Stowaway keyboard, a pre-release version of which I used for this test. (The Stowaway is already available for the Palm and Handspring handhelds.) As a writer who's used keyboards for years, I tend to think through my fingers. A full-sized keyboard is as essential a part of my toolkit as a word processing software or screen. With this keyboard and computer, I can even work productively in the most cramped airplane coach seat, something that's impossible with my notebook machine.

In response to my request for examples of using a PDA/keyboard combination in a classroom, I got this email from Mark Bernstein (of
Eastgate Systems
and hypertext fame):
It wasn't precisely in class, but I used a Palm Portable Keyboard
to take notes at last month's conference FROM TEXT TO E-SPACE, which
was held in a (wonderfully modern) college lecture hall at the
National University of Singapore.
I bought the keyboard specifically for this trip; having read your
praise for its usefulness, and facing an 18-hour plane trip that
would wear down my PowerBook's twin batteries in mid-Pacific, it made
great sense. The Palm did a nice job, letting me sketch several
columns en route, take notes during the conference, and build some
test files for a new hypertext tool.
I hadn't expected the keyboard to be a conversation piece -- this is
a *very* technical crowd. But people were very interested indeed;
flight attendants stopped to chat about it, students looked at it,
other speakers asked to play with it. Three or four people went out
to buy their own keyboards (or their own Palms *and* a keyboard)
after the conference. The conference organizer (George Landow) tacked
a picture of my note-taking in his photojournal of the conference.
The keyboard fits nicely on folding lecture-room writing surfaces.
And it's durable -- twice, when trying to edge out to the aisle to
ask a question, I plunked the whole thing onto the concrete floor,
and both times it came through unmarked.