After the morning practice, we headed back to near the docks for lunch. The three racing boats tied up next to another boat, the Pearl Necklace, and we all got on to that boat to eat.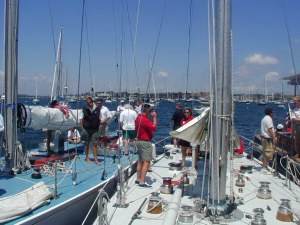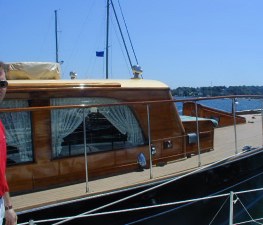 In the middle of lunch I noticed that one of the crew members on the Columbia was using a wireless Palm VII and a Stowaway keyboard to send email from the deck of the boat in the harbor. What a neat sight! I took pictures and wrote it up in "
Stowaway sightings
".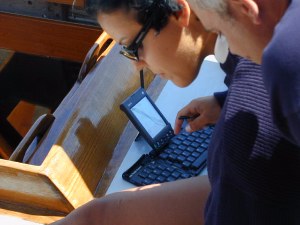 After lunch it was off to race.
As we went out to the course, I got a chance to try "driving". After all, I was the "captain" of our group. I tried it long enough for this picture. The boat's quite responsive -- barely touch the wheel to change course. It felt like rack-and-pinion steering on a sports car. I understand it's a lot more responsive than normal boats.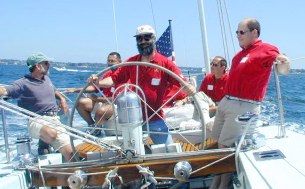 I'm wearing my sunglasses with croakies and a hat that stays tight and that I didn't mind losing in the wind (I had to catch it once).
We switched people doing some of the jobs, and I got to work with the ropes while we turned, wrapping and unwrapping them as quickly as I could trying not to lose any fingers. I kept the camera down below for that part so no pictures.
We won the main race! Actually, I think we made the least mistakes moving ropes or something and had the best boat for the weather of the day (our keel is heavier or something).
We raced around a bit more for a while and then headed back to the dock.
Here you see us get off, and then one last picture of our boat to say goodbye: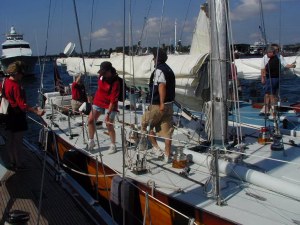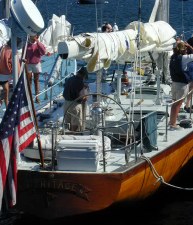 Back at the LavaStorm tent, they had an "awards" ceremony. "Best this" and "best that". As "winners" (nothing we really had much to do with -- we had no idea what the real captains had decided among themselves), we got champagne and toasted the other crews: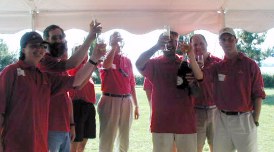 Dinner was served. There was some swapping of business cards, and then I headed home. A great, fun day, and some nice networking. Thank you, LavaStorm! (And thank you stomach for behaving!)