This is the second series of pictures. Here I show how you add your posts after you set up your initial web site.
Adding new posts

Once you've created your web site, to add a new post to your blog, you first log in, and then click "Post to blog" on the initial "All My Sites" page:



You will be taken right to the "Add a post" page. You type in your post and then you can click the "Done and publish" button to put it all up on the web. Here's typing in a post, and then the final published site: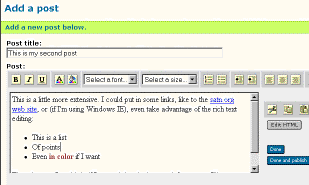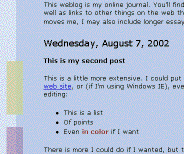 That's all you need to do. Adding new posts is easier than logging into web-based email and sending a message.

Of course, instead of going right to posting, you could also go first to the normal web site edit page to see everything in context, change other text on your web site (including the page with the blog), edit existing posts, etc.

The link and colored text in this post were created using buttons on the "Add a post" page: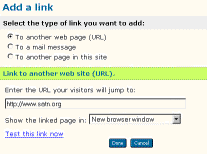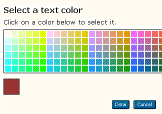 As regular readers of my weblog know, I think pictures can be an important part of a blog. Trellix blogging gets to use the regular Trellix Picture Gallery as part of rich text editing. You'll even be able to upload pictures and have the system resize them to be smaller to speed downloading and to fit in the column better: