Monday, September 4, 2000

New draft of speech

The first draft was too "techie", so I tried a second draft. See
Draft 2
on my
Speech Home Page
.
Sunday, September 3, 2000

Please help me with my speech

I'm giving a speech this Thursday at the Foreign Policy Association's World Leadership Forum 2000 conference in New York City. The speech will be 12 minutes of a panel presentation on "The Internet and Globalization". The audience will consist of diplomats, business people, international money people, press, etc. -- maybe even some heads of state.
I posted a first draft of a talk that covers some of what the moderator, Jim Dougherty of Intralinks, Inc., asked me to talk about. I'd appreciate any comments, as I explain on my "
Dan Bricklin's World Leadership Forum 2000 Speech Home Page
". When it's all done, I'll post it, too, along with pictures and a report from the conference. Thanks!

Wednesday, August 30, 2000

Baseball retrievers

A few people, knowing my dog Prince is a Portuguese Water Dog, told me about a report on National Public Radio about the dogs used to (hopefully) retrieve baseballs balls hit into the bay in San Francisco. You can find links to let you hear the report on the
August 26th
Weekend All Things Considered
page.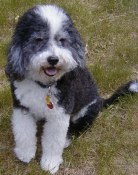 My dog Prince and a closeup of a paw (which doesn't show his webbed feet very well)

Sunday, August 27, 2000


Don't copy that floppy!

I wrote an essay comparing the old Software Publishing Association's anti-piracy campaign with the recording industry's.
Thursday, August 24, 2000

Mark Bernstein writes about portable keyboards

Yesterday I posted a request for stories about using PDAs with keyboards in class. A few hours later I received a response from Mark Bernstein of
Eastgate Systems
. While he wasn't technically a student, he
was
taking notes in a university lecture hall in Singapore. Besides the "Ooh! Ahh!" response, even in a techie crowd, what I learned about schools was that "...
the keyboard fits nicely on folding lecture-room writing surfaces. And it's durable -- twice, when trying to edge out to the aisle to ask a question, I plunked the whole thing onto the concrete floor, and both times it came through unmarked.
" (I hadn't thought about durability. That's why you want real stories from the field...)
Read his full email in
Stowaway sightings
.