Sunday, September 24, 2000

Behind the Curtain is live


Documenting brushing my teeth

The new
"
Behind the Curtain
" web site
with links to over 100 other photo albums of webloggers
is now up
, thanks to Herculean effort from Garret Vreeland.
Check it out.
Garret didn't anticipate the huge response he'd get to this project. That's the Internet: a dripping faucet or a fire hose. My favorite ad during the Olympics is UPS's
"First Day of Business"
about the Internet startup that goes live, has the elation when orders start coming in, and then the terror over the huge unexpected response. (You can
see it
on
AdCritic.com
in Quicktime.) Replace the faces with Garret's. Buzz at work's favorite is UPS's other ad about the consultants who laugh about a CEO who actually wants them to implement what they recommend. (Not on AdCritic.com.)
Friday, September 22, 2000

Hawaiian barbecue

I finally got my "Behind the Curtain" web site done. A link to it will be posted, like the 160 others, sometime on Sunday the 24th. I put up 67 pictures, mostly cropped and shrunk small like my other web photojournals, along with lots of narrative. The explanation is what takes up the time to create, lots of time, but some of what happened is meaningless without the prose.
This afternoon was "Hawaiian Barbecue" party time at Trellix. Our great cafeteria provided the food (hence, a traditional simple hamburgers/hot dogs/potato salad/etc. meal). Almost everybody wore Hawaiian-style shirts or more, even me: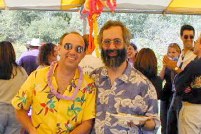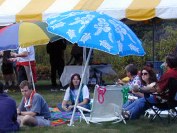 Trellix CEO Don Bulens and me at our company party

There's an interesting story behind my shirt: My cousin
Robbin Zeff's
father Jack is in the clothing business and one of his clients makes Hawaiian shirts, so he found a nice pattern and then got lots of them, all the same. He gave them out at a big family get-together last summer to dozens and dozens of us. My sister has one, my father has one, my cousins do, etc., etc. This is mine. Some families have crests or tartans. We have a Hawaiian shirt pattern.
Thursday, September 21, 2000

Congratulations Captain

I've been spending almost all of the time I could put into my log on my "Behind the Curtain" web site instead. Check back Sunday (we're not supposed to make the URL public until then).
When I copied the BTC pictures from my digital camera to my laptop, the "roll" included a few I took on the trip back from California last week. On the Salt Lake City to Boston leg of the Delta flight they announced that this was the pilot's last flight before he retired after 33 years. His wife and one kid (also a Delta pilot, as I recall) were on board, and another kid who was a pilot in the Marines was going to meet us in Boston. As we approached Boston, the crew put up crepe paper and balloons. As we taxied to the gate, a fire truck sprayed a "traditional" (we were told) water spray. Finally, the retiree said good bye and thank you to each of us individually as we walked out. It felt very homey. Having such a public sharing of a very personal event was quite a change from normal, business-like flights. The joy in it from the crew, the family details, etc., were great -- a real "lifting of a curtain".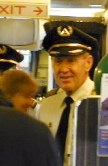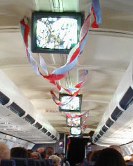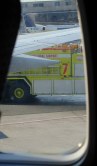 Saying thank you, decorations, fire truck out the window

Monday, September 18, 2000

Taking pictures for "Behind the Curtain"


I decided to join the 160+ other webloggers who are taking a day's worth of pictures to post showing their lives. While many weblogs have almost no photos, I try to have as many relevant ones as possible here, so my readers should be used to seeing me in a variety of situations. But I figured this is an excuse to put up even more mundane ones without embarrassment. (I bet you can't wait to see me brushing my teeth...) My 24-hours will be from Sunday afternoon until this afternoon. We're not supposed to make the pages with the pictures public until September 24th. For more information, see the
Behind the Curtain
page of Garret Vreeland's Array weblog. (I just took a picture of me typing that -- it's hard to hold a camera behind your head and fire the shutter.)
Results of the PR tour

Last week's press tour in California is having some effect. In addition to Dan Gillmor's
article
in his eJournal, Rafe Needleman of RedHerring.com wrote up
a little piece
for his
Catch of the Day
column (also carried on USAToday.com). I guess I was clear in my presentation -- he explained one of our points (that web authoring will be outsourced) quite well.