Tuesday, October 3, 2000

TechNet in Massachusetts

TechNet
, the
bipartisan high-tech political organization
, is starting a node in Massachusetts. Yesterday, it invited a variety of the leading technology CEOs in the area to meet with several Republican members of Congress (many of whom flew up just for the meeting before rushing back to vote in the evening in DC). They held a press conference afterwards and issued a
press release
.
The people in Washington are becoming ever more knowledgeable about our industry.
This is great. They take us seriously for many reasons. (For example, we are important to the economy, and the high tech industry is finally taking an active interest in what the government does and the politicians are taking notice of our interest.) This is a
far cry from a PC Forum I attended over 15 years ago
when
Jerry Brown
chastised us for ignoring government. "The
lettuce growers have more clout
in Washington then you do," I recall he said to an audience that included Ben Rosen, Steve Jobs, Mitch Kapor, and John Doerr. Apparently, that's no longer the case.


John Keane, MA Lt. Gov Swift, and lots of Republican congresspeople; a member of the press takes notes

Lots of links to here

Boy is there interest in what Ray Ozzie is doing!
Both
Dave Winer
and Charlie Cooper (in a
ZDNet column
) mentioned my "frustratingly vague", "brief teaser" September 27th about what Ray's doing. Coop's generated about 9,000 visits -- a very nice number! I've been getting press calls and stuff as people try to find out more. I guess Ray's company had better be ready for lots of interest when they finally tell the public...
Jakob Nielsen
also pointed to my main web site (as a link off my name to explain who I am) in an
AlertBox item
about creating content for average people, a topic very dear to me. Jakob apparently likes the style we put in Trellix Web Express of making template pages that are "publish ready" -- you can use them as is, add to them, or modify what we propose. (If you'd like to try them, read the next item, below.)
Trellix Web Express rolls out to ZDNet, etc.

Part of the PR tour I mentioned a few weeks ago was to tell the press about some of
Trellix's new relationships
. Our server-based, browser editing web authoring tool, Trellix Web Express, is being rolled out as the authoring tool for a variety of important web communities. Up until now, we only had
Tripod
to point to. In the last couple of weeks we went live as the
authoring tool for ZDNet, Bolt
(a high school and college kid site), and
KiwiTown
(a teen site), and have announced that we will be used by
FortuneCity, BizLand,
and
NameSecure
. (
If you want to try it
, go to
Bolt
,
KiwiTown
,
Tripod
, or
ZDNet
and sign up for a free site.)
Larry Magid
wrote about his experiences with Trellix products
as a result of our visit.
Web sites to combat racism

Last week I attended a kickoff event for "Team Up for Respect", a first-of-its-kind national Web site building contest to rally the USA's teenagers to end racial hatred, violence and bigotry. It seeks to encourage students ages 13-18 to build personal Web sites to share their viewpoints on racism, bigotry, and discrimination. This is an interesting example of a local organization extending its reach nationally through the use of the Internet.
Trellix, Tripod, and the Cyber District of Boston partnered with the Team Harmony Foundation to do this. If you know someone in the right age range who feels strongly about these issues, let them know about the contest. For more information, you can look at Trellix's
press release
, and the
Team Harmony web site
.




Kids working on their web sites, Jon Jennings speaking while Lycos' Don Zereski, Trellix's Don Bulens, and Barry Tatelman look on

The event was interesting. It was held at the Charles River Public Internet Access Center in Waltham, Massachusetts. Among others, Jon Jennings, co-founder of Team Harmony, spoke. Jon is best known in Boston for having been Assistant Coach of the Boston Celtics. He and the late NBA star Reggie Lewis came up with the idea for Team Harmony. Most recently he worked in Washington for Janet Reno as Acting Assistant Attorney General. (Having lived in the middle of the NBA and the Federal Government, boy must he have stories to tell. I heard a few...) The other local "celebrity" was Barry Tatelman, best known for being in the Jordan's Furniture TV ads, who is on the Team Harmony board of advisors.

Happy Birthday Dad!

It's my father's 75th birthday today. I thought I'd mark the occasion with a few pictures and a public mention on this web site, since he and many of my relatives are regular readers.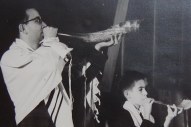 My father, Baruch Bricklin: Last summer with my mother, teaching me to blow a shofar, as a schoolboy

My father has taught me many things throughout my life. He taught me to prototype, he taught me to work hard and do as best a job as you can, he taught me to try to be a good person, he taught me to be an entrepreneur, and much more. Reaching 75 has not been easy for him, mainly due to an awful car accident 10 years ago, but his strength, innate intelligence, and good nature have helped him through and he's served as an inspiration to many of us.
I love you, Dad. Happy Birthday, and many more!
Wednesday, September 27, 2000


Yesterday I finally managed to get an afternoon when I could take up my friend Ray Ozzie's invitation to visit his new company and see what he's been working on for the last few years. (For those of you who don't remember, Ray is best known for envisioning and leading the creation of Lotus Notes. He also worked for Bob Frankston and me at Software Arts years before that.)
Ray's company, Groove Networks, has been in "stealth" mode for quite a while, not speaking about what they were up to. The
first public hint I saw was Ray's attendance at a P2P meeting
hosted by Tim O'Reilly, which was
reported
in the SJ Mercury and
mentioned
by Dave Winer on September 19th. (The hint being that Peer-to-Peer is somehow involved.)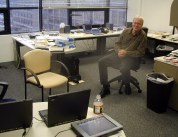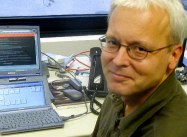 Ray Ozzie in his office at Groove Networks

I spent over four hours talking with Ray about a whole host of topics, business and personal. What a treat! Usually I'm lucky to see him for just a few minutes at conferences.
While I can't tell you any details about his new stuff, I think I can say this:
All my readers will find something interesting (and hopefully useful) in what they've done. As usual with systems Ray and the teams he gathers create, this one is technically very deep and innovative. The more you know about a technical area the more you will appreciate what they've built. They have a real understanding of the capabilities of the Internet and use them. They address many very hard problems to give the users what they want. In this, they are technically ambitious, skilled, and pragmatic. Unlike many other developments for the Internet, right off the bat they address issues that are necessary for business and serious use. Their experience in the real world with Notes shows through.
There's a little bit about what they are doing on the
Groove web site
(read the press articles listed on the "Company" page), and they have a form to fill out to give them your email address to "Be one of the first to get into the Groove". (Most of the site is set up to try to hire people. If you want a job, don't forget to
check out my company
, Trellix Corporation, too

.)
I can't wait until we can dissect and discuss what they've done in public.