Baruch Bricklin z"l (of blessed memory)
[
link
]

My father, Baruch Bricklin, died peacefully a little after midnight, early the morning of March 2nd, 2010. My mother and I were by his side, our arms holding him as he took his last breaths.
The funeral was the following day, March 3rd. His three children, and one of his six grandchildren, spoke, as well as the nursing home's cantor/chaplain Hali Diecidue who knew him well from his seven-year stay there. In addition, both Hali and Rabbi Beth Naditch read from the psalms and poetry, and made very meaningful and comforting remarks.
Early in the service Beth led us in the singing of the 23rd Psalm in Hebrew, and we could feel the full participation of most of those assembled. I sang the best I could through tears and sobs.
Near the end of what I said, a cell phone started ringing in the pocket of one of my close friends in the front row of seats. As it got louder and he fumbled to take it out of his pocket and silence it, I felt that I should do something since it was getting distracting and I was sure people were losing concentration on what I was saying.
Rather than just stop and wait, I said something about how this should remind everybody else to make sure that they had turned theirs off.
I felt that it would be disrespectful to my father, lying there in the coffin just a few feet to my right, to have people remember his funeral for being one disturbed by a cell phone. That was too negative a feeling for such a positive, optimistic, and empathetic person. I decided to say a little more, drawing on material I used in talks previously.
I said something like: "It's OK. . . A cell phone is a very important thing to most people. It represents a connection to their friends and loved ones." Then, seeing him trying to put his cell phone into his shirt pocket, I added: ". . . and we keep them next to our heart."
This clearly moved some people. Embarrassed that I appeared to come up with the "cell phone as emotional object" idea out of the blue, I said something about "That's from my book" and then added: "One of my friends just wrote to me how a story in my book that involved her and a cell phone made her happy because it made a connection between my Dad and her."
I then finished reading what I wrote.
What the others said was much less eventful, but very moving. I think by the end you got a pretty good idea of what my father was like, both before and after the accident that impaired him, and how loved and respected he was.
Following a request I had made of her previously, Beth then led the singing of the first verse of another song, Shir Ha'Emek. (I wrote about this song -- and cell phones --
in late 2002
.) My father had sung that to my sister and me as a lullaby, and it reminded us of him, and I felt that it was a fitting way for us all to help him rest in peace. We always called it by its first words, "Ba'ah m'nuchah la-yahgayah" -- "Rest has come to the weary." Again, many others in attendance sang along.
After singing the traditional prayer for a Jewish funeral, El Malei Rachamim (God, full of mercy), we left the funeral chapel, with grandchildren, nieces, and a friend as pallbearers guiding him to his final resting place a few miles away.
We returned home to start the seven-day shiva mourning period.
In the first afternoon, my mother, brother and sister, and various other family members, including some of my father's grandchildren, watched a tribute video that my sister had produced and shown at my father's 60th birthday celebration. Watching him in snippets that were included in the video, as well as hearing about all he did in those first 60 years, helped bring back the image of the vital man he was before he was so severely injured 19 years ago. No longer was the image in my mind of him in a wheelchair, barely able to say a word or two, as he was during the last few years. That video, and others that we've watched together since, are treasures that are helping bring the "old Dad" back, and are letting his grandchildren rekindle the memories of how much he loved them and how well he played with them, and them with him. Instead of just an image of him dozing off in a wheelchair, they see themselves riding on his back as they played and he sang. Old videos are indeed a blessing.
Sadly, we also listened to the exuberant hopes that others, now long gone, had for him and his future.
As my father lay in bed during his last few days, we remarked how peaceful and well he looked despite not being on any medications of note for most of that period and having gone through so many rough years (and being 84 years old). The nurses and attendants at the nursing home tended to him quite well, turning his body periodically to keep him comfortable, and keeping his skin fresh with lotion and powder, shaving his beard, and combing his hair. His skin had always been very youthful looking. My mother and I remarked, even at the time of his death, how much he looked like his younger self in our photos and videos. That, thankfully, made those old images of him even easier for us and the grandchildren to associate with him as the same person.
At one point during the seven-day period, I was singing parts of the 23rd Psalm to myself. Suddenly, as I got to "Dishanta b'shehmen rohshee", "He anoints my head with oil", I saw in my mind the image of my Dad a few days before he died, soon after the attendants had just put lotion on him. His face was, for a while, very greasy, like with petroleum jelly. At the time it looked a little strange, but I now realized that it was part of the normal caring for someone who couldn't care for themselves. So this could be one of the things I was singing about: Those lines in the Psalm were about being taken special care of, being provided rest, food, drink, and oil on one's head. The Saturday night before my father died, my sister and I had sat with him and my mother in his nursing home room and read the entire Book of Esther to them (in Hebrew, with the proper tunes, as he would have liked). In that story, in Chapter 2, we read about how the young women about to approach the king spent six months with oil treatments. Having someone else oil your skin was part of being treated as a special person. This was a nice image of my father's final days, as a transition to that traditional psalm destined to be sung.
During the evening prayers after the funeral, my mother, sister, brother, and I recited the traditional Mourner's Kaddish prayer. To my surprise, as I recited it, I realized that it felt very good to do this. I had lost so much of my father in that tragic moment in 1990 without getting to say goodbye. When he recovered somewhat, we celebrated what we had. It felt wrong to mourn too much that which we lost, as if it was an insult to who he still was. With each succeeding drop in ability, brought on suddenly by mini-strokes or who knows what else, we lost another piece of him. Another sadness, but with no religious ritual to mark it. Something of himself remained, though, always true to his original self. Now, with the thump of the dirt we shoveled onto his grave that afternoon, he was finally all gone. I could finally honor his memory, a proud memory of all that he had been those 84 years, by saying Kaddish in public.
Rest in peace, Dad. May your memory be a blessing.

My father in transition
[
link
]

Some of you who read my blog know my father, Baruch Bricklin. Others may have learned about him from posts I wrote on his 75th and 80th birthdays -- "
Happy Birthday Dad!
" and "
Happy 80th Dad!
" -- and I'd love people to read what I wrote in them.
Some of you may know him through his work as a printer in Philadelphia for many years, including one of the documents for which he helped me develop the typography and then oversaw the printing: The original
VisiCalc reference card
. He also did the complex (from a printing viewpoint) TK!Solver manual. Many people have told me that the VisiCalc reference card was how they learned VisiCalc, since it ran in memory with less than 48K and therefore had no help system (and many people like to dive into programs without reading the manual).
Much of what I am is a direct result of my father, something that makes me very happy. He is a model I strive to live up to. He has been an inspiration to many people who have known him over the years. I dedicated my book to my mother and him, and he appears in it multiple times. I love him very much.
My father was in a very bad car accident 19 years ago (another car spun out of control, crossed the median, and struck his minivan head-on), and sustained a severe brain injury. After 10 weeks in a coma, he regained consciousness, but was much impaired, and has progressively deteriorated ever since. He lived with my mother for many years, and then, when he couldn't get out of bed by himself, moved to a nursing home, where he has spent the last 7 years after my mother and he moved up to the Boston area.
He is now in the very final stages of that journey. I want to make people who care about him aware of the situation, and this blog post is part of doing that.
The other posts have some pictures of him at various stages in his life. Here is one I frame-captured from a video of him at the beginning of his 60th birthday weekend 24 years ago. The weekend was full of surprises as people who loved him attended and celebrated. His four sisters came in from across the country and around the world. Here he is with them and my mother seconds after they burst into the room: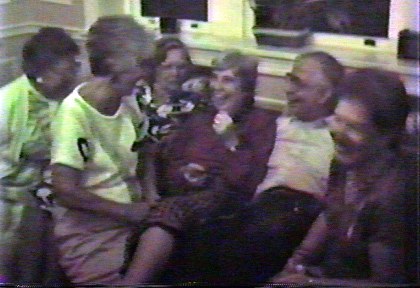 It's a picture that captures a very, very happy, loving moment in his life and it comes from a video that shows how animated and appreciative he was as a person. I write this sitting next to him as he lies in his bed, resting comfortably, not having moved much nor eaten in days. It's comforting to remember those happy times he experienced.
I don't plan to post more for a while as we go through this transition.