Friday, October 13, 2000

Groove tidbit

For readers who can't wait for any mention of Ray Ozzie and Groove, Dave Winer
met with Ray
yesterday and gives another positive report, but, yet again, with no details. I have an indication that interest in P2P is increasing: My
P2P musings
from last August have become ever more popular. Helping that some is that searching for web pages on Google or Yahoo for "p2p" lists my site on the first page.
Wednesday, October 11, 2000

Next week: Agenda conference

I hope to have reports from Bob Metcalfe's
Agenda 2001
conference next week. Ray Ozzie will not be there (neither will Elvis...) but many other industry people will. There's excitement in our industry and I'm really looking forward to talking with people.
My
mention
of Ray and Groove two weeks ago still brings in articles, such as
this one
from Network World Fusion. Boy have they been able to keep things under wraps! An interesting case history in not telling everybody. Dave Winer
reports
he's meeting with Ray tomorrow, so we'll see what else leaks out.
Massachusetts Software and Internet Council Fall meeting

Representatives from four local "incubators" each spoke for 2 minutes, giving an overview of what they do. One was Enterprise Ireland which is run by an Irish government agency to help Irish companies, usually well established companies, enter the US market. The others, idealab!, Reach Incubator, 100x, and Cambridge Incubator, made it clear that most of the ideas they are trying to grow into companies are inhouse ideas from the incubator funders. This is different than the "old" image of incubators being a place for outside ideas to go and be nurtured and grow.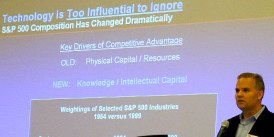 Credit Suisse's Managing Director talks about the public markets

Kevin Tice of Credit Suisse First Boston Technology Group joked about the change in attire where now they have
"dressup Fridays"
. In accessing the
public markets
, he noted that
technology used to be a niche. Now it's an asset class
and money managers have to have money invested in it. They talk of
BA and AA
: Before April and After April. He blamed VCs for the huge follow-on equity sales that flooded the market in Q1'00 leading to the drop in IPO performance in mid-April. He sees infrastructure companies being popular now (Yay! Trellix is one!). To go public, he thinks you need $5M revenue per quarter and profitability visible within 12 months or so. Successful IPOs are getting done (at least when led by his company

).
Howard Cutler of
WGBH
, Public Broadcasting in Boston, talked about how they have been doing interactive media since 1985. They do lots of experimentation with their content. For example, they originated captioning on TV. He showed some examples of streaming QuickTime with various types of interative captioning. Here was a TV person who was very comfortable with its relationship with online, interactive stuff. Check out their
web site
to see examples.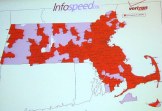 Verizon executive and their map of DSL in the state

Robert Mudge, the President - Massachusetts of Verizon, talked about DSL and other broadband technologies. He said that 50% of their traffic is data (vs. voice), and that percentage is growing. The opening of the market is being done by data people, not voice people. In other industries a backlog is healthy, in telecom it isn't because your customers always "need it yesterday". Their number one priority is to provide bandwidth. With respect to Massachusetts, there is "no more fiber intensive state". He commented on the irony that DSL was supposed to be a copper solution, but to provide it to many people they need a fiber link to nodes and only use copper for the last 15K feet. He went over some of the hundreds of millions of dollars they are investing, and then, of course, made a pitch for opening up long distance to them...
Staying in the Growth Phase

The main speaker at the meeting was Michael Roettgers,
CEO of
EMC Corporation
, an information storage infrastructure system builder. John Keane introduced Michael, noting that EMC is a great example of a company that dealt with the
Innovator's Dilemma
popularized by Clayton Christensen's book. Once a mouse under the feet of the elephant IBM, recently
EMC's market capitalization of $225B surpassed IBM's
. The graveyard of the defunct minicomputer companies in eastern Massachusetts haunted them and taught them not to be complacent.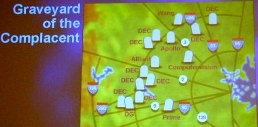 EMC's Roettgers and his slide of reminders of yesterday

Michael sees Massachusetts today as coming back with diverse leaders in networking infrastructure and content management. In the future, his vision is that: "Companies with staying power will focus on the 'I' in IT regardless of the access device. Technology changes. But information lives." You used to boast of the size of your processors, now you don't. The revenue growth in storage is 2.5 times that of network communications equipment which itself is greater than servers or PCs, he claims.
Outdated: Islands of information, such as the customer's information vs. your supplier's vs. headquarters' vs. your department. Information centrality increases value. He feels that "Storage + Optical Networking = Content Big Bang" so it doesn't all have to be in one place.
The number of people with access to information is going up. More people means more value means more value for the leading companies. In the Systems-centric world IBM led with a market cap of $80B. In the PC-centric world MS/Intel led with a market cap of $800B. He sees the Network-centric valuations going to $8 Trillion, and the Info-centric (his area...) going to $80T.
He says he's learned: "Never bet against technology. Never bet against what engineers can do."
Storage is now attached to networks, not to computers. The average Global 2000 company doubles its storage needs every year; the average dotCom every 90 days.
IT technology in Global 2000 companies is like the
Big Dig
in downtown Boston. It's hard to change things. With the Big Dig, "all you have to do" is lower the expressway and put in a tunnel. Why is it so hard?
You still have to carry the existing traffic while you make changes.
You can't shut down. New companies don't have that problem. A physical example was the difference in doing the Chunnel between England and France. It took less time than the Big Dig and cost only $6B vs. $15B. But they didn't have to carry all the existing commuters every day while doing it, the Big Dig does.
Software is EMC's biggest growth segment. Through growth and acquisition, they are now Massachusetts' largest software employer.
He talked about
high tech company life cycles
. He highly recommended Geoff Moore's
Crossing the Chasm
. He talked about how a loan from the old Shawmut Bank saved them at one low point and still thanks them years later (Shawmut was merged away by Fleet a while back). He invests heavily in new products to get in on each new cycle (mainframe, PC, network, info-centric) to not get left behind.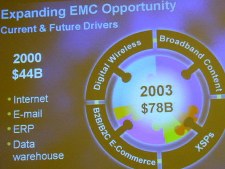 Where they're going

He talked about the importance of partnerships (they have a lot of them).
He then talked about location, why locate in Massachusetts, etc. He said they joined the Massachusetts Software and Internet Council because we address workforce issues.
Finally, he's worried that privacy concerns can derail this whole thing. Slide: "Protect privacy to protect e-commerce. Trust must grow as infrastructure grows. Heavy regulation will bring future to a halt. Voluntary policies won't prevent train wreck. Industry and government must find a 'third way'".
I liked the presentation a lot, so decided to devote the space here.