Friday, October 27, 2000

Starting Year Two

Today starts my second year writing a web log. My thanks go out to those of you who have already responded to my request yesterday for comments.
One challenge I'm finding is when I encounter something for the second time. For example, on the first page of this log I showed Walt Mossberg of the WSJ at Agenda in 1999, and I have new pictures from this year that are almost the same. At least you can see the improvement from a new camera and better choice of seat...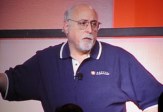 Walt Mossberg at Agenda last year and this year

Fall Comdex is coming up again. We'll see what happens.
The crossing point for digital cameras


Digital cameras are the most desired high-tech item:
In
a recent survey
of college students asking them what they wanted as a gift this holiday season, 40% listed a digital camera vs. 34% who wanted a CD-burner and 23% who wanted an MP3 player. 75% want a handheld vs. a webcam-style camera.


When all things are equal Digital is now better than Film:
Photographer Michael Reichmann took a good Canon lens and put it on both a new Canon EOS D30 digital camera body ($2,900 street) and a Canon EOS 1V ($1,600) film camera body (with Fuji Provia 100F film). He then scanned the film with a very good professional film scanner ($9,900) and compared the results. (Most professional pictures are scanned before being used in Adobe PhotoShop -- apparently darkrooms are less common with pros today than they used to be.) To Reichmann's surprise, the digital camera pictures were better.
See for yourself and read his comments
.
The point here is that a common, very good professional setup using film was bested by a digital camera of comparative price and features.
As a professional, he will find it hard to explain if he isn't using a digital camera. Film purists: read his comments and references to other's comments to understand this is real.

Thursday, October 26, 2000

End of Year One

Today marks the end of one year of maintaining this log.
I
started
October 27, 1999
, wanting to learn about this genre of web site, and hoping it would take less time than my albums and in-depth reports.
I've learned a lot, including how rewarding it is and how time-consuming.
It is a lot more work than I expected (or hoped).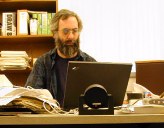 Where I often write the log

I thank all you readers for encouragement and for reading this personal record.
I'm trying to figure out how I might change what I'm doing for the next year to put less of a drag on my work and personal life free time. I'd appreciate any comments you may have about what type of entries you find most interesting and which least, and why. I put a special emphasis on pictures from the first day on. Has that emphasis worked and what have you learned from it? Feel free to email comments to me at
danb@trellix.com
.

Dress code

Late yesterday afternoon was the Trellix Halloween party. People decorate their cubicles, bring in their children who go around trick-or-treating, and we get together for pizza and stuff for dinner.
As a surprise to me, many people in the company came to work in "costume", dressed in blue jeans and flannel shirts like me. I didn't notice it right away, but people started asking what I thought. I thought everyone looked very comfortable, with all that warm and cozy flannel... Someone joked that it's the new dress code. Whatever, I was very touched that people cared enough to dig through their wardrobe to find something they thought was appropriate. I got many of them together for a picture during dinner to commemorate the event and share it here: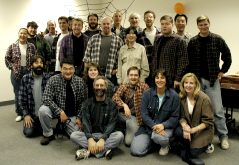 Where's Dan? Can you find me among all the other flannel-shirted people?

Wednesday, October 25, 2000

Attending the Groove announcement

I attended the
Groove Networks
announcement Tuesday. I've posted lots of pictures (32) on a
"
Groove Announcement
"
page. Groove has put a
video
of the event up on their web site (if you have an hour and a half or so to listen and Windows Media Player).

Ray Ozzie describing Groove

Trellix and Groove

Also on Tuesday, my company, Trellix Corporation, announced that we have added a Web Gem to our private-label web site building service to integrate with Groove. This makes it
easy to add Groove invitations to web sites created with our service
. We made it available Tuesday morning through the ZDNet SiteBuilder version. For more information, read the Trellix
press release
and
information page
.
Monday, October 23, 2000

Groove announcing their product tomorrow

Ray Ozzie's company,
Groove Networks
, is announcing their product in New York City tomorrow. I'll be there. They've managed to be so successful in keeping this under wraps that even today, the day before, TechWeb had to
resort
to using words from their 2-year old trademark registration files to get something detailed to print. Well, Tuesday that will all be moot, and we can get on with discussing the implications of their work and can start learning about some important aspects of P2P by using it.
Agenda album with details of Ballmer's speech

I've put up a simple album with some of my pictures from Agenda 2001 last week. In addition to a page with random pictures, I have posted a page with pictures of many of the slides from Ed Zander's (president of Sun) talk. I also posted very detailed notes from Steve Ballmer's (CEO of Microsoft) speech and Q&A session. Steve discussed many topics and answered all sorts of questions in his 20 minute talk and 30 minute Q&A session.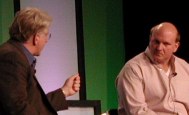 Q&A with Steve Ballmer

Better cell tree picture

I was driving on the Garden State Parkway yesterday and asked a passenger to take a picture of my famous "cell tree" with a digital camera. (Last time I scanned the picture from a point-and-shoot film camera.) I got a better image and replaced the one on my
Cell Towers
page.

Cellular phone antenna disguised as a tree

Tuesday, October 17, 2000

Start of Agenda 2001

I haven't had much time to report from Agenda. Nothing too exciting to report, so it probably doesn't matter that I'm not up to the moment. Dan Gillmor did, though, beat me to my own stuff by using two of my pictures that I took for him -- see his "
Geeks with toys
" on October 16th.
Steve Ballmer of Microsoft spoke this morning. Just one joke now: "The word 'open' is a conundrum. We say 'open' -- we mean everything is documented, people can do what they want to do. Somebody else says 'open' they mean it's free. Sun says 'open', ... it means it's sort of documented when I want it to be and I can pull it completely. Which, frankly, is a form of openness we recognize and respect." (Yesterday, Sun President Ed Zander spent many words on knocking PCs.)
Here're some pictures:




Dan Gillmor holding laptop with his web journal showing the picture I took, Microsoft CEO Ballmer, Bob Metcalfe kicking off conference, Intel's CEO Craig Barrett on projection screen during dinner speech

As I write this (
Wayport
provided wireless service in the meeting room and hallways), a panel just finished that included
Napster
's founder Shawn Fanning, CEO Hank Barry, and lawyer Robert Silver. Hank noted: "Funeral parlors in the United States are a 25 billion dollar industry. The record industry is a 14 billion dollar industry. And, you know, anybody dies only, what, once a year? And people listen to music all the time. So you wonder why isn't that business bigger?"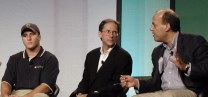 Napster founder, Interim CEO, and lawyer